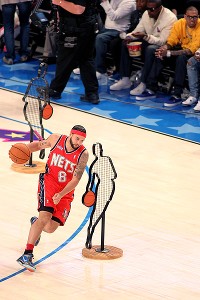 Kent Smith/NBAE/Getty Images
Deron Williams
ORLANDO, Fla. -- San Antonio point guard Tony Parker won the Skills Competition of the NBA's All-Star Saturday night festivities.
Parker was the only one of six participants to break 30 seconds in the first round (29.2) and this time of 32.8 in the final run on the obstacle course was better than Boston's Rajon Rondo (34.6) and New Jersey's Deron Williams (41.4).
Williams won the competition in 2008, which involves participants moving through a dribbling circuit, successfully throwing chest passes through a hanging tire and driving for a layup.
Cleveland's Kyrie Irving, Washington's John Wall and Oklahoma City's Russell Westbrook also competed.