DALLAS -- Two words immediately come to Rick Carlisle's mind when he thinks of DeShawn Stevenson, who will become the latest ex-Maverick to receive his championship ring Tuesday night.
"Ultimate pro."
That's not exactly how Stevenson was perceived when he arrived in Dallas as a throw-in with Caron Butler and Brendan Haywood in the 2010 All-Star break blockbuster deal with the Wizards. At the time, well, folks didn't know quite what to think of the two-guard with tattoos from his forehead to his feet.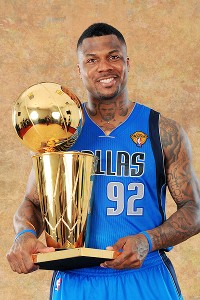 Jesse D. Garrabrant/NBAE/Getty Images
DeShawn Stevenson helped the Mavs win the Larry O'Brien Trophy.
There was a strong suspicion that Stevenson, whose claim to fame had been a high-profile playoff trash-talk war with LeBron James, was a wee bit crazy. That turned into an appreciation around these parts for Stevenson's unique personality after he played the biggest role of any of the ex-Wizards in the Mavericks' first title.
"I had a bad rap of being a loose cannon," Stevenson said Monday night after his new team, the Nets, practiced at SMU. "I think it's a different type of crazy. It's a crazy where I'm going to go out there and fight for my teammates and do the right thing. I'm kind of misunderstood, but that's what I try to do and I won a championship doing it."
Stevenson's style and work ethic earned him immense respect in the Mavericks' locker room.
The Mavs' veteran leadership trio of Dirk Nowitzki, Jason Kidd and Jason Terry twice lobbied Carlisle to insert Stevenson into the starting lineup. Carlisle listened on both occasions, once near the beginning of the season and the second time just before the playoffs began.
The Dallas vets embraced the nasty tone that Stevenson -- who usually got the most difficult defensive assignment among the opposing guards and small forwards -- set along with big man Tyson Chandler.
"Just a tough, tough guy that we miss," Nowitzki said. "I'm happy for him that he gets his ring and he's going to get a standing ovation. He brought a toughness and grittiness to our club last year that we needed."
In between his successful stints as the starting lineup's defensive stopper, Stevenson fell out of the rotation while his minutes went to Rodrigue Beaubois. Stevenson never complained, continuing to prepare the same way, a persistence that paid off in the playoffs.
Stevenson's professionalism was never more apparent than Game 4 of the NBA Finals. After Stevenson started the first 18 games of the postseason, Carlisle decided to replace him in the lineup with J.J. Barea, in part because the Mavs wanted to make sure that Shawn Marion or Stevenson was always available to defend James.
Instead of pouting about a perceived demotion, Stevenson responded with his best performance of the playoffs. Stevenson outscored his old adversary LeBron, 11-8, playing lockdown defense and knocking down three 3-pointers.
"He kept himself ready and always answered the bell," Carlisle said. "Always."
Stevenson was ready to return to Dallas for the repeat attempt. However, he said he felt like he had done too much with the Mavericks to accept an offer for the minimum salary and moved on by signing a one-year, $2.5 million deal with the Nets.
Stevenson will return to the American Airlines Center with mixed emotions. He looks forward to finally seeing the championship banner and getting his ring. (He's seen plenty of pictures of the 31-diamond spectacles, including one fellow free agent departure Barea texted him the night of the ring ceremony.)
But Stevenson admits that he wishes he could stay in Dallas and move back into the locker now occupied by Delonte West.
"We just had a special team," Stevenson said. "It's just sad how it went down. It's tough. It's the business part, but I'm always a Mavericks guy until the day I die."