The New Jersey Nets are going to Brooklyn. But which players will be going with them?
On Wednesday night, with the Nets and Orlando Magic engaged in trade talks, it appeared that Dwight Howard would be joining Deron Williams & Co. in making the move to Brooklyn and the $1 billion Barclays Center next season.
Fans on Twitter were ecstatic. GM Billy King was heaped with praise. There was even talk that the Nets were going to take over New York City from the Knicks, as if that's possible.
But by Thursday morning, about three hours before the 3 p.m. trade deadline, Howard had changed his mind for the 8,000th time in the last 24 hours or so: He was going to waive his early termination option and stay in Orlando through 2012-13.
The situation had turned into a "Dwightmare." An "all-in" pursuit gone wrong. The Nets were stunned, shell shocked, as was their fan base.
The Nets had tried to get Howard since the offseason. They thought they had a three-team blockbuster done in the offseason. Magic ownership nixed it. Then in December, Howard demanded a trade to New Jersey. Never happened.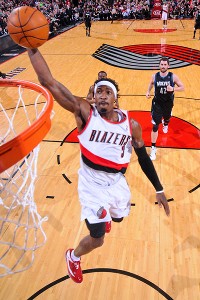 Sam Forencich/NBAE via Getty Images
Gerald Wallace has averaged 13.4 points and 6.3 rebounds during his 11-year career.
Come Wednesday, though, things were looking up. Howard said he wanted to stay in Orlando through this season, but that the Magic were going to have to "roll the dice."
But as of 3:01 p.m. Thursday, the only ones rolling the dice were the Nets.
Acting swiftly following the Dwight debacle, the Nets put a top-three protection on their 2012 first-round draft pick and dealt it -- along with Mehmet Okur and Shawne Williams -- to the Blazers for combo forward Gerald Wallace.
Fan outrage ensued on Twitter.
All season long the Nets had stayed the course. The losses and injuries piled up, yet the philosophy never wavered. The Nets had been accumulating assets and cap space in the event that both Williams and Howard did opt out.
But now, instead of staying patient and developing a roster, they traded a valuable commodity -- a first-round pick which very well could be Nos. 4 or 5 -- for a player like Wallace, who, despite his prowess on both ends of the court, could be on the downside of his career as he approaches his 30th birthday.
Why? To appease Williams? He's leaving for Dallas anyway, fans said via social media. To try to win now and make a playoff run? They can't even stay healthy, fans added.
This was clearly not what they had in mind.
King has done a phenomenal job since taking over the reins at the beginning of last season. He acted boldly to get D-Will. He traded up on draft day to land MarShon Brooks. Recently, he plucked a gem named Gerald Green out of the D-League.
But this doesn't feel quite like those moves. It feels different.
The payoff could be the playoffs. It could be a five-year, $109 million extension for D-Will. Down the road, perhaps it could even mean a blockbuster for D-12.
Yet there are so many risks. What happens if D-Will and Wallace both walk after the season? Then what? Then they just lost a possible lottery pick for nothing.
During a Thursday night conference call, it became abundantly clear that King didn't want to discuss the future.
He defended the move, saying his team acquired a veteran staring small forward, which it didn't have, and that he'd rather make a playoff run rather than wait to develop a raw talent. (The Nets liked only three players in the 2012 class, sources told ESPN.com's Chad Ford: Anthony Davis, Michael Kidd-Gilchrist and Thomas Robinson.)
D-Will has praised his relationship with upper management and loves all the marketing opportunities he has received since being dealt to New Jersey. He even loves living in New York. But he hates losing. And the Nets have won 18 of the 52 games he has played in since the trade.
In spite of that, though, they're just 4½ games out of the eighth and final playoff spot in the Eastern Conference, so King saw an opportunity to upgrade his roster and take a shot while maintaining flexibility moving forward.
Question is, can a lineup of Brook Lopez, D-Will, Brooks, Wallace and a power forward to be named later (like Kris Humphries, Kevin Garnett or Ryan Anderson) win a championship in the future?
Would you take that lineup over the Heat, Bulls or even Magic's right now? Tough to say yes.
Maybe everything works out. Maybe D-Will re-signs in the offseason and the Nets make another run at D-12. Or maybe D-Will leaves the Nets high and dry -- as does Wallace -- and they lose a possible lottery pick for nothing.
There are inherent risks that come with every NBA move. This one carries extreme risk.
July 1 can't come soon enough. Neither can Sept. 28. But who will be on the Nets at that point? That's the question.