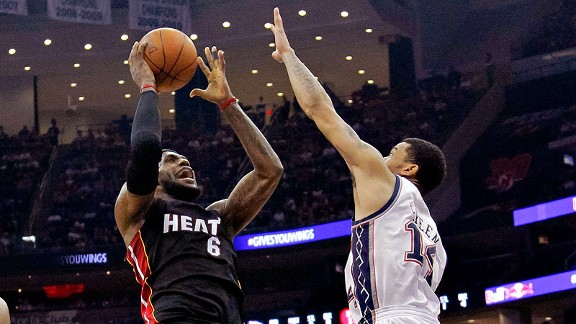 Jim O'Connor/US Presswire
In the summer of 2010, the Nets were hopeful that LeBron James would be the bridge to Brooklyn.
Nearly two years later, James drew a massive crowd to one of the franchise's final home games in New Jersey.
Too bad he was playing for the other team.
In front of a pro-Heat contingent that chanted "MVP!" and "Let's Go Heat" all evening long, James stole the show -- and gave all 18,711 in attendance a heroic late-game performance they won't soon forget.
James scored the Heat's final 17 points and went on an 11-0 run in the closing minutes as Miami rallied from a 13-point third-quarter deficit to topple the Nets for the 10th straight time, 101-98, on Monday night at Prudential Center.
"It was amazing, honestly," James said after scoring a game-high 37 points, dishing out seven assists and grabbing six rebounds. He also shot 11-for-19 from the field and 14-for-15 from the free-throw stripe.
"I give a lot of thanks to all the Heat fans that we have -- and all the Nets fans that rooted for us as well," James added. "Like I said at one point last year, I never thought I would hear 'Let's Go Heat' on someone else's floor, so I'm happy to be a part of it, and thanks to the fans, it was great."
This won't happen once the Nets move to Brooklyn next season, right?
Those fans aren't going to cheer for so-called "villains," are they?
"I'm surprised. Where were those fans earlier when we were up?" wondered Nets power forward Kris Humphries, who scored a team-high 29 points and pulled down eight rebounds.
"They should've been screaming the whole game. Don't just show up when they get on top. That surprised me. If you're a Heat fan you should be screaming the whole game for them, even when they're down."
Some of the star-studded faces in the crowd included Jay-Z and Beyonce, Victor Cruz, Justin Tuck, Antrel Rolle, D'Brickashaw Ferguson, Bart Scott, Antonio Cromartie, John Conner and Thierry Henry.
And they were all lucky enough to have courtside seats to the LeBron Show.
"As good as I remember," small forward Gerald Green said. "As good as a video game."
The Nets (22-40), sans All-Star point guard Deron Williams (sore right calf), lost their 13-point edge midway through the fourth quarter. But instead of folding, they countered.
Working out of a baseline isolation set, Humphries hit a turnaround fadeaway jumper from 13 feet to give his team a 95-88 lead with 2:28 left.
At that point, it was over. Well, it should've been.
Humphries split a pair of free throws with 2:06 remaining to make it 96-90. That's when James finally decided he'd had enough -- and put the Heat on his back.
First, he drove the lane and converted a three-point play at the 1:51 mark: 96-93.
Next, he went left to right and got a layup to go 25 seconds later: 96-95.
After that, James bodied up Humphries and finished with his left hand with 51 ticks left: 97-96.
It was the Heat's first lead of the game. It was the only one they needed.
An 8-footer made it 99-96. Two free throws made it 101-96.
The Nets still haven't beaten the Heat since March 20, 2009.
"I am at a loss for words," Nets coach Avery Johnson said. "I don't know what to say.
"But I am so proud of our team. This is probably as proud as I have been of them all year."
If only D-Will was available in crunch time. The Nets missed three shots and had a turnover during James' decisive run.
"I wish he could've put on a uniform in the last two minutes of the game and come out and will us to win," Johnson said of Williams.
The Nets have just two home games left in the Garden State. Then it's on to Brooklyn they go.
They were hoping James would lead them there. But he took his talents to South Beach instead.
So the Nets are relegated to trying to convince Williams to be their bridge. They're building a beautiful $1 billion arena -- Barclays Center -- in a borough starving for the return of a professional sports franchise.
But without a superstar to win games and sell tickets, the excitement isn't going to last.
"It's not just about the building or the city we're going to, we gotta put a really good product on the floor," Johnson said.
James captivated their crowd on Saturday night -- the way they hope Williams will next season.