Deron Williams might say he doesn't like people to speculate about where he's going to play next season, but he added some fuel to the fire Thursday.
"Just finished playing East Hampton Golf Club w/@RealJasonKidd let the speculation begin?????" Williams tweeted.
Both Williams and Jason Kidd -- avid golfers -- will be unrestricted free agents on Sunday.
Williams, sources told ESPN.com's Marc Stein, has narrowed his list down to the Brooklyn Nets and Dallas Mavericks. Kidd, who will turn 40 next season, has said he would be interested in backing up Williams, wherever he lands.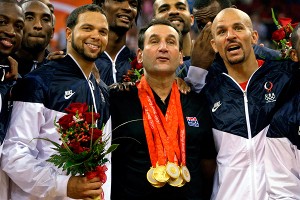 AP Photo/Dusan Vranic
Deron Williams and Jason Kidd won Olympic gold for Mike Krzyzewski and Team USA in 2008.
"@DeronWilliams since you won that means we're going to ............," Kidd tweeted, in response to Williams' tweet on Thursday.
Williams has been working out at the Nets' practice facility for weeks. He was spotted there on Wednesday, when he poked his head into GM Billy King's pre-draft news conference with reporters.
Williams spent his 28th birthday Tuesday at a party attended by Nets coach Avery Johnson, sources told Chris Broussard of ESPN The Magazine.
The Nets are appealing to Williams because they are moving into the $1 billion Barclays Center and he will undoubtedly be the face of the franchise. He also loves the marketing opportunities he has been afforded and has forged good relationships with Johnson and King.
But Williams has said he wants to win, first and foremost, which might make Dallas the more attractive destination. While the Mavericks, like the Nets, have a roster in flux, they do have Dirk Nowitzki and are just two seasons removed from winning the NBA championship.
And, like the Nets, they also have a billionaire owner who wants to win: Mark Cuban. Plus, Williams grew up nearby, in the Colony.
He wants to have a max deal hammered out before he reports to training camp for Team USA.
Both the Nets and Mavericks are expected to work feverishly in their efforts to put the right pieces around Williams in an attempt to convince him to choose their team.