AP Photo/Orlin Wagner
Unable to make a first-round splash, the Nets dealt for Tyshawn Taylor.EAST RUTHERFORD, N.J. -- Brooklyn Nets GM Billy King wanted to acquire a first-round pick.
But potential trading partners wanted future picks instead of cash, which King didn't want to give up, so he settled for three second-rounders instead.
The Nets acquired the draft rights to Tyshawn Taylor (41st overall) from Portland and Tornike Shengelia (54th overall) from Philadelphia in exchange for cash, the team announced late Thursday night. The Nets also selected Ilkan Karaman with the 57th overall pick.
"We liked him. We had him pretty high on our board," King said of Taylor. "Avery [Johnson, the Nets' coach] and I have been talking about getting a young point guard that we can groom down the road with his pedigree in winning big games. Once we saw him starting to slide, we started maneuvering to get there."
The 10 Greatest N.J. Nets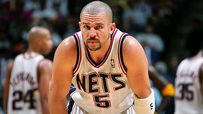 As the franchise leaves New Jersey,
we proudly present to you ...
The 10 Greatest Nets

| BlogTaylor, 22, was a four-year starter at Kansas. The 6-foot-3 guard averaged a career-high 16.6 points, 4.8 assists and 1.3 steals as a senior. Taylor is from Hoboken, N.J., and played his high school basketball at St. Anthony in Jersey City.
"His best basketball is ahead of him," said King, who also liked Taylor's maturity, size and decision-making skills.
Taylor is the only player who will stay with the Nets. Shengelia and Karaman will remain overseas and are viewed as long-term projects who will be able to develop there.
The Nets have only four players under contract right now. But if they're able to re-sign Deron Williams and bring in a veteran to back him up like Jason Kidd, Taylor may not figure in the rotation. Jordan Farmar has a $4.25 million player option that he has until Saturday to exercise.
"That didn't factor into it at all," King said. "We would look at a veteran to replace those guys [Williams and Farmar] if they leave."
Taylor will be a part of the team's summer league roster. Second-round picks do not have guaranteed contracts.
ESPN.com's Chad Ford had Taylor as the 30th ranked prospect on his big board.
In his scouting report, Ford noted that Taylor has excellent quickness, speed and a very quick first step, is a very good athlete and an explosive leaper, has a high basketball IQ, and is a good defender with quick hands.
However, Taylor still needs to develop a more consistent jumper, add range, improve his ball-handling and has had disciplinary issues at Kansas.
Shengelia, 20, is a 6-10 forward out of Georgia and has been playing on the national team since 2008. He played the 2011-12 season for Belgacom Spirou where he averaged 8.9 points, 5.2 rebounds and 1.1 steals in 18.4 minutes in 20 Belgium League games.
"We liked his length," King said. "He has a chance to get better. He can score the basketball and he knows how to get to the rim."
Karaman, 22, is a 6-10 forward out of Turkey. He played for Galatasaray of the Turkish league, where he averaged 10.7 points and 6.4 rebounds in 23 minutes per game.
"I saw him play in Turkey during the lockout and had a chance to see him play against Deron over there," King said. "He's big, strong and the goal is to keep him over there for a while to progress and develop."
The Nets did not have a first-round pick because they traded theirs (No. 6 overall) to Portland in exchange for Gerald Wallace.
On Wednesday, King said his focus was more on free agency than the draft.
Aside from Williams (unrestricted) and Wallace (unrestricted), Brook Lopez (restricted), Gerald Green (unrestricted) and Kris Humphries (unrestricted) will also become free agents at 12:01 a.m. Sunday.