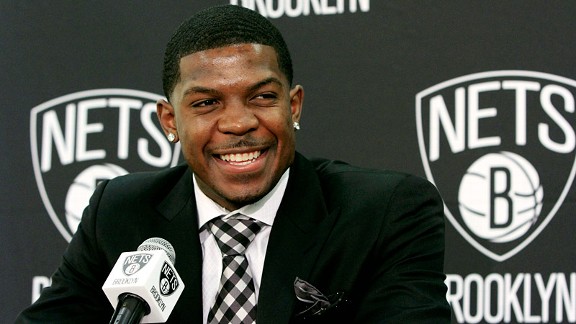 AP Photo/Mary Altaffer
Nets guard Joe Johnson isn't just aiming for a winning record or a playoff berth. He's going for a championship.
"That's what we are shooting for -- the ring," Johnson told SI.com. "There's no need to sell ourselves short. You talk about gelling and figuring it out, and I think we have the perfect pieces: a great point guard, a great center. I don't think any of our positions are the same or overlap at all."
The Nets, who won just 58 games the last three seasons combined, spent more than $330 million this summer to turn themselves from a pretender into a contender. Still, few if any believe they have what it takes to overtake the likes of Miami, Oklahoma City or the Los Angeles Lakers.
But with a starting five that's likely to feature Johnson, Deron Williams, Gerald Wallace, Kris Humphries and Brook Lopez, there's definitely a lot of potential for success in Brooklyn.
The Nets have plenty of scorers, but many are questioning how good they'll be on defense -- especially on the interior.
"It's just a mindset that you have to embed in those guys," Johnson said. "Everyone knows Kris Humphries is a relentless rebounder, and I think both him and Brook Lopez can be good defenders, man. It's just going to take some time and some communication. It's going to depend on how bad they want it. But I think everyone is inspired right now by this Brooklyn thing. I know I'm excited. I'm doing things I've never done before as far as working out and preparing myself."
Johnson made headlines in the Big Apple earlier this summer when, at his introductory news conference, he said the Nets were better than the Knicks.
"I'll tell you what: I've been to New York, but I've never really been out in New York like that," Johnson told SI.com. "I had never been to Brooklyn until the press conference, and that was something like I've never experienced before. It was unbelievable -- all the fans coming out to welcome us. It was something I've never been a part of. I had a great time."
Johnson, 31, is still due $89 million over the next four years. He'll be the fifth highest-paid player in the NBA in 2012-13, according to various salary data websites. And ESPN.com's Summer Forecast projected him to be the second-worst newcomer behind Jeremy Lin.
Johnson isn't concerned about the criticism he's received since his trade from the Hawks.
"You just have to tune it out. We had a great squad there," Johnson said. "Unfortunately, we got hit by the injury bug last season, with Al (Horford) getting hurt early in the season. It happens. I can take the criticism, as long as I know I'm giving it everything I have."