On Sunday, the people of Newtown, Conn., held a vigil to remember the innocent victims, most of them children, of the Sandy Hook Elementary School shooting.
The same day, Brook Lopez hosted his first-ever basketball clinic at Brooklyn College for kids, ages seven to 17. He said it held special meaning for him in the wake of the national tragedy.
"It's just unfathomable," he told ESPNNewYork.com. "I'm so fortunate to be able to be out here and be hanging out with these kids, and realize how really special they are. You really can't take it for granted."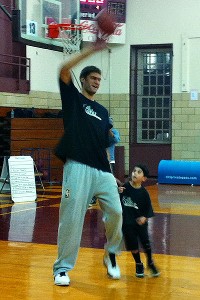 Jared Zwerling
Partnering with Citi Private Pass, Lopez held a basketball camp for kids on Sunday in Brooklyn.
During the afternoon, Lopez drilled the young hoopsters and then they played halfcourt games. Lopez had some fun with a couple of them in one-on-one plays, demonstrating his favorite post-up move: a short jump hook. Lopez was taken aback about how knowledgeable the kids were about the NBA and even his own game.
"They know every little stat and everything, every player," he said. "They really follow the game and they really enjoy being out here, and having two great teams like the Nets and the Knicks. They're always talking about us playing each other and those games, and they're really excited for the game coming up this week."
He continued, "It's always fun to talk to kids. They're always giving me tips and stuff, like, 'Brook, don't dribble the ball up the court, man. Give it to your point guard.' Stuff like that."
Here are a few other nuggets from Lopez's conversation with ESPNNewYork.com:
His first-quarter scoring (he's fourth-best in the league with a 7.4 points average): "I think it's just a matter of really coming out to the game and being ready, being warmed up, and that's something I tried to emphasize today. I always try to tell these kids, 'Come out, really be on the ball, be ready to learn and come with energy.'"
His improved defense (he's averaging a career-high 2.5 blocks per game): "It's just been a matter for me of really getting better at positional defense -- not necessarily anything super athletic, but just realizing where I need to be in relation to where the ball's at."
His first real go-around playing with Deron Williams: "I think he just makes the team so much better. In every game, we really learn from each other, we keep getting used to each other and keep getting incrementally better. It's just impressive to see him play pick-and-rolls with different guys, and he reads so fast how certain guys play in the pick-and-roll -- what their strengths are and where he needs to give them the ball."
Knicks-Nets (once again on Wednesday night): "They definitely feel like playoff games for us. They're easy to get up for."
You can follow Jared Zwerling on Twitter.