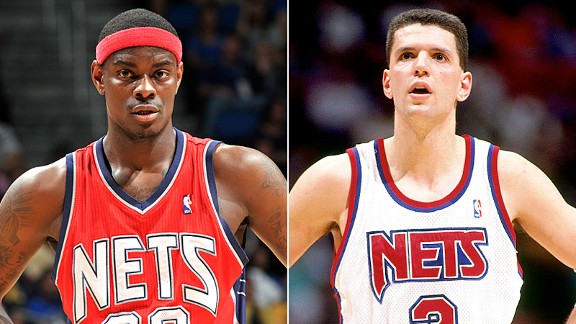 Getty Images
Anthony Morrow and Drazen Petrovic.Nets shooting guard Anthony Morrow will take part in his first 3-point contest on All-Star Saturday night -- but he won't be wearing No. 22.
Instead, Morrow has elected to wear No. 3 to honor former Nets great Drazen Petrovic, who died in a car crash in the summer of 1993 at the age of 28.
"I like throwback jerseys anyway, but it's just a blessing to be able to shoot in a 3-point contest, and I think it's important that I honor a great person and a great shooter," Morrow said before the Nets took on the Knicks on Monday night at the Garden.
Morrow came up with the idea on his own. He was inspired after watching the ESPN 30 for 30 documentary "Once Brothers," about the friendship between Petrovic and Vlade Divac.
"We had to go through the league, they approved it, so as far as I know I can wear the jersey," Morrow said.
Morrow is the second-most accurate 3-point shooter in the NBA history, and has converted at just over a 41 percent clip from beyond the arc this season.
He was installed as the favorite to win the contest by Las Vegas.
"That's cool," Morrow said. "I never thought I would've been picked as the favorite, but it's cool."
Petrovic was an emerging star at the time of his death. He averaged more than 20 points per game in his only two full seasons with the Nets, and was known for his long-range marksmanship. The Nets retired his No. 3 jersey in 1993 and he was enshrined posthumously in the Basketball Hall of Fame nine years later.