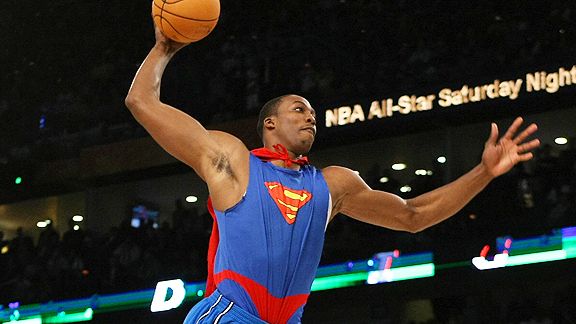 Timothy A. Clary/AFP/Getty Images
The hot item this Christmas: Dwight Howard action figure. Life-size, even.Continuing through Dec. 23, ESPNNewYork.com will run a series called "Christmas Countdown," examining a hot topic each day that surrounds the New Jersey Nets.
Today's Hot Topic: The team's best-case scenario
What would be better than landing Orlando center Dwight Howard?
Nothing.
Therefore, it's easy to deduce that the best-case scenario for the Nets this offseason would be pairing D-12 with Deron Williams to form the most dominant duo in franchise history.
No offense, Dr. J and John Williamson.
While it feels like the "Dwightmare Before Christmas" right now, D-12 is the must-have present this holiday season. Every team would love to net the NBA's most dominant big man, but there's only one of him in stock, and right now the Nets' offer -- which starts with 23-year-old center Brook Lopez and two future first-round picks -- may end up trumping all the rest.
Imagine Williams throwing alley-oops to Howard. Howard commanding double-teams and kicking it out to two of the most prolific 3-point shooters in NBA history -- Anthony Morrow and Hedo Turkoglu. Wing players blowing by Morrow and Turkoglu only to be rejected inside by Howard.
The possibilities seem endless. That elusive NBA championship suddenly becomes a realistic goal for the franchise.
Last season, Howard averaged 22.9 points, 14.1 rebounds and 2.9 blocks per game. He had an NBA-high 227 dunks. Opponents shot an league-worst 37.3 percent when Howard was the on-ball defender.
Essentially, the Nets are going to do everything to make sure Howard ends up under the Christmas tree. His acquisition would most definitely persuade D-Will to stay when the team moves to Brooklyn in 2012-13. The superstar point guard even said so himself.
Howard and Williams would then be tasked with recruiting players to join them. Sounds easy. After all, who wouldn't want to play with those two?
If they don't end up landing D-12, the Nets still would do well to end up with upgrades at power forward and small forward. While Kris Humphries andJosh Howard wouldn't be Dwight Howard, the pair would certainly be the next-best thing.
The Nets would be able to compete for a playoff spot. No small feat for a team that's won just 36 games the last two seasons.
The Nets have plenty of salary cap space and assets to move via trade. They have a contingency plan, but D-12 represents perfection.