HARTFORD, Conn. -- St. John's never led against No. 9 Connecticut on Saturday at the XL Center.
But they never gave up, either. Trailing 70-47 with 7:13 to play, the Red Storm easily could have packed it in on this New Year's Eve. Instead, they went on a 14-2 run to cut the deficit to 11 and make things a little interesting.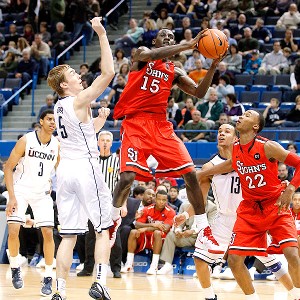 David Butler II/US Presswire
Sir'Dominic Pointer scored 14 points and showed his highlight-reel potential.
St. John's never got closer than that, ultimately losing 83-69. But they competed until the last second. In fact, they didn't even stop there. Sir'Dominic Pointer threw down a one-handed jam off a rebound just after the horn sounded -- indicative of the spirit St. John's exhibited all afternoon long.
"Certainly we learned a lot as a group coming in here and playing obviously one of the better teams in the country," interim head coach Mike Dunlap said. "It felt like we got better since the Kentucky game. But we have a couple more steps to take to be able to compete and try to win this game, which is the ultimate goal for us."
On the first day of December, St. John's faced top-ranked Kentucky in Lexington and was exposed -- trailing by as many as 27, losing 81-59, clearly a class below John Calipari's Wildcats at that time.
On the last day of December, the Red Storm looked very different -- proving they belonged on the same court as a top 10 team, even if the final margin wasn't pretty.
"The biggest improvement was mentally," Dunlap said. "We played with a togetherness. That game could have gotten away from us in a big way.
"We kept coming at them, and I don't know that we had that cohesiveness against Kentucky."
D'Angelo Harrison shot just 4-for-16 from the field, but kept taking the ball to the rack against UConn's intimidating front line, earning 10 free throws and finishing with a team-high 17 points. Pointer attacked the rim on several occasions as well, scoring a career-high 14, including a couple of dunks you will see on "SportsCenter," guaranteed.
And Moe Harkless, who set a new Big East record with 32 points in his conference debut against Providence on Tuesday, scored 16 more -- and learned a valuable lesson.
"I think that I should have done a better job in the end of trying to take over the game," said Harkless, who took only 11 shots on the day. "I didn't assert myself as much as I should have. But for future games I will -- if a time comes like that again, I will take over the game."
UConn, the defending national champion, and clearly capable of winning another one this season, was firing on all cylinders Saturday, in front of a raucous sell-out crowd. The Huskies drained jumpers when they were open, and even when they were not, making 29 of 48 from the field (60.4 percent), including nine of 16 from 3-point range.
St. John's, on the other hand, made just 21 of 58 (36.2 percent), and four of 24 from beyond the arc.
Yet, despite those numbers, this was a contest. And a much different St. John's team than the one we saw 30 days ago.
"There's no moral victories," Harkless said. "A loss is a loss. We just gotta get back in the gym and work hard, and on Tuesday we gotta bounce back."
Louisville is next up, at Madison Square Garden on Tuesday. Another top 10 opponent -- and another chance for this St. John's team to prove it belongs.