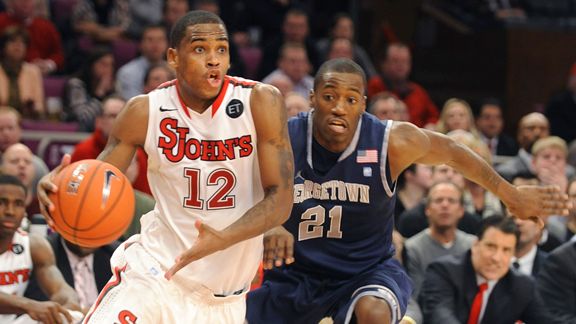 Henny Ray Abrams/AP Photo
Dwight Hardy is playing as well as anyone in the Big East right now -- we'll see if Notre Dame can slow him down on Saturday.
St. John's will put its five-game winning streak on the line when it plays at No. 15 Notre Dame on Saturday evening at the Joyce Center in South Bend, Ind.
Tip-off is at 8 p.m. ET, and the game will air on ESPNU and ESPN3.com.
St. John's (10-3, 3-0 in the Big East) is coming off its biggest win of the season, a thrilling 61-58 victory over No. 13 Georgetown at Madison Square Garden on Monday. The Red Storm are off to their best start since the 1999-2000 season, and are currently ranked No. 7 in the country in the RPI.
"We've had a good stretch over the past five games, just playing more efficiently at the offensive end of the floor," St. John's coach Steve Lavin said on Thursday. "From the Fordham game forward, our team has done a better job in terms of shot selection and playing through the post, collapsing defenses, playing inside-outside. And as a result, we've been able to have some degree of success."
"I think [Lavin's] managed an older group really well, and has convinced them that this is their time," Notre Dame coach Mike Brey said on Thursday. "They felt that, but the leader has to nurture that. And certainly at this point they really believe that it's their time."
"I do think they're a confident bunch," Brey added. "I told our guys quickly after the Connecticut game the other night (a 73-70 Notre Dame win), I said we're playing the hottest team in the league on Saturday, and a team that beat us in our gym last year."
St. John's did score a 69-68 win at Notre Dame last Feb. 14, although leading scorer Luke Harangody missed that game for the Fighting Irish.
Shooting guard Dwight Hardy led the Red Storm in scoring in that upset win in South Bend last season, with 16 points. And he is leading St. John's in scoring this season, averaging 16.6 points per game. Hardy has come on strong of late, scoring 20 or more points in six of the team's past seven games.
"Being a senior and starting, playing high-volume minutes, he's gaining confidence and a comfort level with our style and system of play with each passing practice and game," Lavin said of Hardy. "I think he's exhibiting the ability to take games over."
Notre Dame (13-2, 2-1) is coming off that impressive home win over No. 9 UConn on Tuesday. Before that, the Fighting Irish lost at No. 4 Syracuse on New Year's Day (70-58), but prior to that beat No. 13 Georgetown at home on Dec. 29 (69-55).
Notre Dame's only other loss came on Dec. 8, to No. 11 Kentucky, 72-58. But the Fighting Irish are 10-0 at home.
"I think it's a group that has great synergy, it's a cohesive brand of basketball," Lavin said of Notre Dame. "And the execution is elevated because of the velocity of their cuts, the crisp ball movement, the good screening. They penetrate into the lane and locate teammates very well on the perimeter. And those are things that are drilled in practice.
"They'll be the most efficient offensive team that we've faced this year."
Notre Dame has five players who average in double-figures, led by 6-foot-8 senior forward Tim Abromaitis, who leads the team in scoring (16.5 ppg) and rebounding (7.2 rpg). Also, 6-foot-3 senior guard Ben Hansbrough (younger brother of Tyler) averages 15.6 points and a team-high 4.0 assists, while shooting 44.6 percent from 3-point range. And 6-foot-7 senior forward Carleton Scott averages 11.9 points and 6.4 rebounds.
St. John's already has two Big East road wins, over West Virginia and Providence, but this will be an even tougher test. And this is only Game 2 of eight games in a row against teams currently ranked in the top 25 in the nation.
"We know we've got our hands full," Lavin said.