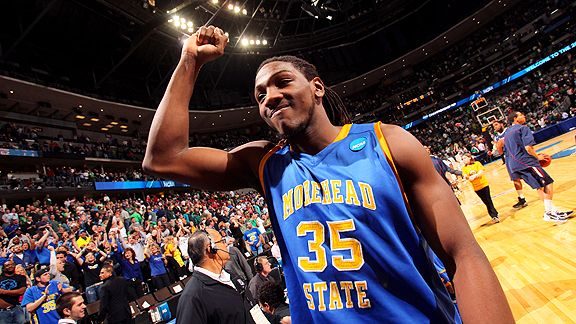 Doug Pensinger/Getty Images
The NBA can wait, because Kenneth Faried has at least one more college game to play.Recap | Box score | Photos
DENVER -- Morehead State's Kenneth Faried was lying on the Pepsi Center floor, hands over his eyes, writhing around. If you didn't watch what had just transpired, you might have thought he was in agony.
But the native of Newark, N.J., was feeling no pain. Rather, pure joy.
It's just a dream, Faried thought. Did we really just beat Louisville? Did we really just make a statement for the NCAA and people around the world?
Yes, it was a dream -- a dream come true.
"It feels good to know that we kinda messed up some people's brackets," Faried said after the Eagles, seeded 13th, stunned the fourth-seeded Cardinals 62-61 Thursday in the second round of the NCAA tournament.
"We quieted a lot of people and opened a lot of eyes."
Louisville coach Rick Pitino was the one in pain after the game. "This is as tough a loss as I've had in coaching," he said, "and I've been coaching a long time."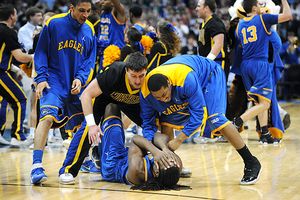 Andrew Carpenean/US Presswire
Kenneth Faried hit the floor after Morehead State's victory over Louisville.
This game will be remembered for Demonte Harper's one shining moment -- his long bomb from beyond the top of the key with 4.2 seconds left, which gave Morehead State the lead. Harper, the Eagles' second-leading scorer, had an off game up until that point (five points, 2-for-9 shooting, 0-for-5 from 3-point range). But coach Donnie Tyndall still put the ball in his hands for that final shot, following a timeout.
"During the media timeout, Coach said, 'I dreamt about this last night, this exact position we would be in,'" Harper said. "He said, 'I know exactly where I'm going to. I'm going to put it right in your hands, Demonte. I don't want you to drive to the hole, I want you to pull up and win the game off a 3-pointer.'
"I said, 'Coach, I'm going to hit the shot.'"
That instantly becomes the stuff of college basketball legend. But Morehead State would not have been in that position -- in this game, in this tournament -- without Faried. The 6-foot-8 senior from Technology High School in Newark is the nation's leading rebounder (14.5 per game), and he pulled down 17 big ones on Wednesday afternoon.
"[The ball's] mine. It's nobody else's," Faried said, when asked about his mentality when it comes to rebounding. "I mean, I believe in my teammates. But I believe every rebound is mine. So I just pursue it like it is."
"All coaches use the cliché that [for] rebounders, every shot is a pass to you," Pitino said. "[Faried's] the only one I've seen since Dennis Rodman that truly makes that statement true."
Faried struggled offensively against Louisville: He came in averaging 17.6 points per game, but had just 12 on Wednesday, shooting 4-for-17 from the field. But his two clutch free throws with 31 seconds left cut Louisville's lead to 61-59, and his rebound of Elisha Justice's missed one-and-one free throw gave the Eagles a chance to pull some March Madness magic in the final seconds.
"I have no quit in me," Faried said. "My teammates believe in me, my coaches believe in me. So I just kept grinding and grinding, and kept spinning off, and kept trying to make the moves in order to get the rebounds."
He also came up big on the last play of the game to preserve the victory. Louisville's Mike Marra got the ball at the last second and went up for a jump shot; Faried was right on him, and went for the block.
"I said, they're not gonna call this foul, 'cause it's the last shot," Faried said. "I've learned over the years that they don't call that foul. ... So if I fouled him, then hey, it's not a big deal to me. But I kept my hands up, and fortunately I just hit all ball."
"You can't really expect the refs to make a call," Marra said. "Faried played good defense."
Faried's journey from Newark to Morehead has been well-chronicled. He wasn't heavily recruited by schools close to home, so he ended up taking his talents to a town of about 6,000 residents in eastern Kentucky. And over his four years there, he has evolved into a likely first-round NBA draft pick, thanks to his unique ability to get his hands on missed shots.
"People were baffled," Faried said. "People would ask me why I'm going there, why I'm going there. They're not gonna do nothin'.
"But my family believed in me, and my friends -- some of them believed in me," Faried added, laughing. "It all worked out for the best."
Yes, it has. And before he moves on to the next level, Kenneth Faried has at least one more college game to play.
"I'm hoping the world knows [Morehead State] now," Faried said. "I pray so. But we got a game on Saturday. So watch that one."