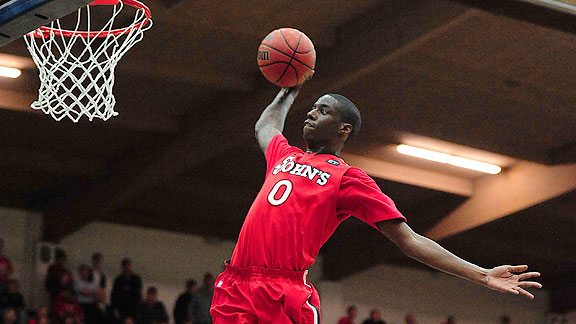 Kyle Terada/US PRESSWIRE
St. John's fans will miss watching Dwayne Polee and his vertical leap.I have to admit, I'm shocked by Sunday's news that Dwayne Polee is transferring from St. John's.
Polee, who hails from California, cited a family health issue as the reason he is leaving -- he wants to be closer to home. I extend my thoughts and prayers to him and his family in dealing with that situation.
As for St. John's, this is a major loss. The Red Storm were already going to be extraordinarily young next season, with nine newcomers as of now -- seven freshmen and two juco transfers. With Polee leaving, coach Steve Lavin will now have just one player back from last year's team: reserve guard Malik Stith.
Polee -- Lavin's lone recruit in his first year on the job at St. John's -- did not make quite the impact many thought in his first year in New York. He did start 27 of the team's 33 games, but he played just 14.9 minutes per game, averaging 4.4 points and 2.5 rebounds. With such a senior-laden squad, Lavin elected to go with the veterans more often, and let the freshman learn from the bench.
But the 6-foot-7 forward showed flashes of future stardom. He had 16 points in his very first collegiate game, against St. Mary's (which ended up being his season high). And with D.J. Kennedy out for the NCAA tournament because of a knee injury, Polee stepped up to score 12 points -- 10 in the second half -- in the team's season-ending loss to Gonzaga in the Big Dance.
In the lobby of the team hotel in Denver, the morning after that loss to Gonzaga, I and my fellow St. John's beat writers had a chance to talk with Polee -- to get his thoughts on his first season of college basketball, and the future. Polee sounded very excited about next season, and about being a veteran leader on next year's team. In fact, he said he had been in contact with several of the recruits who will be arriving in Queens in the fall.
Now Lavin -- who has already said he expects next season to be the most challenging of his career -- faces an even tougher challenge. Stith, the lone returner, averaged even fewer minutes (12.2) and points (3.3) than Polee. The fresh faces will be counted on even more heavily than they were going to be before.
As for "Bambi" -- Polee's nickname last season, being the lone freshman amongst so many seniors -- like I said, I wish him all the best with his family situation, and at whatever school he winds up transferring to on the West Coast.
I know one thing -- I will miss watching his high-flying dunks and soaring blocked shots for the next three years.