Former Rutgers DT Eric LeGrand, who's recovering from a spinal cord injury he suffered during a kickoff return against Army last fall, spent Thursday at ESPN headquarters in Bristol, Conn.
Although LeGrand was injured on a kick return, he told SportsCenter he does not support Rutgers coach Greg Schiano's radical idea to get rid of kickoffs.
"I believe a lot of people make their money, in the NFL, off special teams. Kickoffs and kickoff returns are a huge thing. But I can understand why he wants to change that, after seeing one of his players, like seeing one of his sons, go down," LeGrand said.
"That was my thing, I used to run down there and make a lot of plays, stop 'em behind the 20 yard line. So, that was my thing to do out there."
LeGrand has been busy tweeting updates about his condition.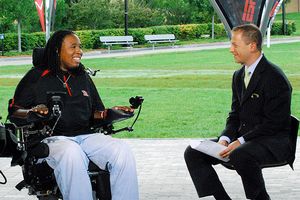 Marcus Lynam
Eric LeGrand with Outside the Lines host Steve Bunin.
"All the people that are following this whole story, that's my inspiration every day," LeGrand said.
LeGrand recently stood up for the first time in his physical therapy. Now he's talking about what is next.
"[My] next major goal is basically get on this locomotive treadmill," he said. "It's kind of this thing that they just stand you up in a harness and they train your legs to walk again."