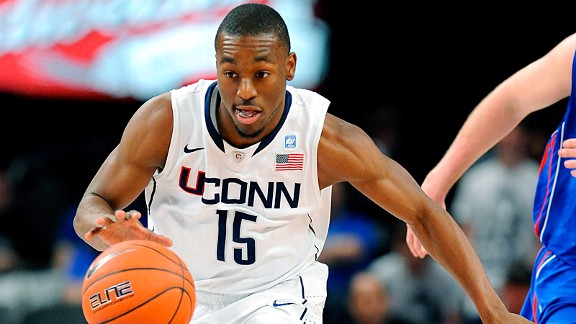 Rich Kane/Icon SMI
If there was no lockout, Kemba Walker would be making his home debut for the Bobcats on Friday. Instead, he's working out at UConn.
Kemba Walker would much rather be in Charlotte right now, playing his first pro games with the Bobcats.
Instead, he's hanging out in Connecticut, training with the UConn Huskies and waiting for the NBA lockout to end.
"It's cool," the Bronx-born Walker said last week, at an appearance to promote his new UnderArmor sneakers. "I'm working out with the team, practicing with those guys. I'm trying to help them get better and they're helping me get better."
Of course, he'd prefer to be working with the rest of his Bobcats teammates. But the NBA lockout has that on hold for now. So he's in Storrs - - playing alone in the morning and with the team later in the day - - helping ex-teammates like Shabazz Napier and Jeremy Lamb prepare for the season.
"It's great to me," Walker said. "Everything is free."
Walker was smiling when he said it, but it's clear that the lockout - - which entered its 127th day on Friday - - is starting to frustrate him.
"As time goes by, now it's starting to get harder because it gets a little old, working out every day alone," he said. "I'm trying to stay positive. I'm just ready to play basketball. That's the only thing, I'm ready."
The former Rice HS star left UConn last year after a fairy-tale junior season in which he earned Big East Tournament MVP and led the Huskies to the national championship. He also earned his degree in three years, so he decided to enter the NBA Draft early without much second thought.
Now, as he works out with his ex-teammates, Walker wonders what would have been if he'd stayed for his senior season.
"I wouldn't think about that if there was no lockout," he says.
If there was no lockout he'd be in Charlotte, getting ready for his first home game with the Bobcats on Friday. Instead, he's still working out in Stoors.
WALKER HONORS GUACHOS: Walker played on what many considered the top AAU team in the country in the summer of 2007. He shared a backcourt with future West Virginia guard Darryl Bryant and future Drexel guard Chris Fouch with the Guachos that summer. Also on that team was future Long Beach State forward Dan Jennings, future Seton Hall guard Jordan Theodore and future Miami guard Durand Scott.
To honor that edition of the Gauchos, which was coached by current Arizona assistant Emmanuel "Book" Richardson, Walker and UnderArmor created an orange and black sneaker featuring the names of his Gauchos teammates on the insole.
Most of his Gauchos teammates were products of New York City high schools as well. Walker, Scott and Fouch went to Rice HS in Manhattan and Bryant went to St. Raymond HS in the Bronx.
Making the shoe was "a dream come true," Walker said.
Walker's face is plastered on subway posters and the sides of buses all over New York City as part of UnderArmor's "Are you from here?" campaign to promote the shoe. He's also featured in a national commercial.
"It's crazy. I never thought I'd ever see something like that," he said.