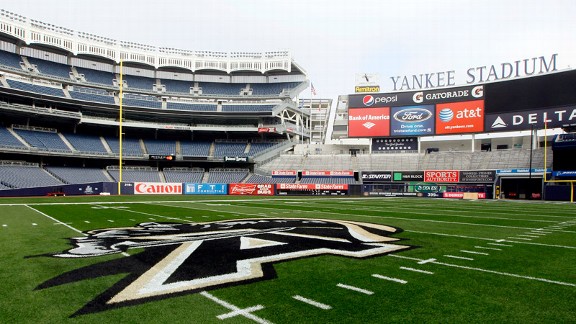 AP Photo/Mary Altaffer
Army will be the home team Saturday at Yankee Stadium.Here are three things to watch for in Saturday's football game between Rutgers (6-3, 3-2 Big East) and Army (3-6) at Yankee Stadium.
Kick-off will be shortly after 3:30 p.m., and the game will be televised on CBS College Sports.
HIGH EMOTIONS: Both teams will be extra charged up for this one, playing the only college football game of the regular season at The House The Boss Built. Also, the last time these two teams met -- Oct. 16, 2010, at the Meadowlands -- Rutgers' Eric LeGrand suffered a spinal cord injury covering a kickoff and was paralyzed from the neck down.
LeGrand will be at the game and will sit in with the CBS crew for part of the broadcast. But that play from last October will surely be on the minds of many of the players on Saturday afternoon.
Also, with the game taking place the day after Veterans Day, Rutgers will wear special white helmets with a red, white and blue "R" on them, in tribute to Army.
There is another reason for the special helmets as well, which Rutgers coach Greg Schiano explained earlier this week.
"The class that [coach] Rich Ellerson and the Army football program showed towards Rutgers in this last year has been incredible," Schiano said. "When Eric got injured in that game, Rich Ellerson and his entire football team stayed in constant contact, whether it be through notes -- the whole team wrote him notes at one point -- gifts, Army memorabilia, things that were special to them that they gave, have in Eric's room, to even as late as this summer Coach Ellerson and members of his team coming down to our stadium club and having lunch with Eric."
WELCOME BACK: Sophomore Chas Dodd will get the start at quarterback for Rutgers, his first start since Oct. 1 at Syracuse. Dodd came on in relief of freshman Gary Nova in the fourth quarter last Saturday against South Florida, and rallied the Scarlet Knights to a 20-17 overtime victory.
Dodd, who was the starter at the beginning of the season before losing the job to Nova, looked sharp last week. Let's see if he can keep it up against an Army defense that is ranked 46th nationally in yards given up per game (363.8), and 18th against the pass (187.11 yards per game). The Black Knights have given up some big point totals, however -- 49 to Northern Illinois, 48 to Ball State, and 44 to Vanderbilt, all losses.
ON THE OTHER SIDE: On defense, Rutgers faces a triple-option offense for the second time this season. Army is the No. 1 rushing team in the country (365.8 yards per game) and last in passing (47 yards per game).
The Scarlet Knights did an outstanding job against the triple-option against Navy in a 21-20 win last month, holding the Midshipmen -- who were averaging 366 rushing yards per game -- to just 162. We'll see if they can do the same type of job on Saturday.