NEW YORK -- St. John's returned to Madison Square Garden on Thursday night -- playing its first game there in seven months, with an almost entirely remade roster.
And in a losing effort, the Red Storm gave fans a glimpse of what appears to be a promising future.
With six of its seven players appearing in just their fourth Division I game, and playing in the Garden for the first time, St. John's led No. 16 Arizona 66-58 with 7:17 left to play before wilting down the stretch, losing 81-72.
"I told the team after the game that the style of play in this game is similar to what we're gonna see in the majority of Big East games," St. John's coach Steve Lavin said. "It was a great learning opportunity. As disappointed as we were in the loss, I think there were some pulls and takeaways that will be valuable as we move forward in the season."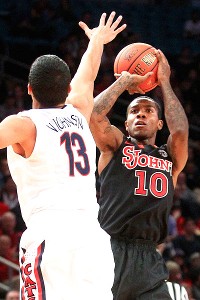 AP Photo/Frank Franklin II
St. John's Nurideen Lindsey scored a game-high 18 points before fouling out.
Lavin said earlier this week that he expected his young team to have some butterflies before making their debut in The World's Most Famous Arena, after three wins against lesser competition at Carnesecca Arena to start off the season. But the new players looked comfortable on the big stage from the get-go.
After falling behind 19-10 early on, the Red Storm surged to a 32-26 lead, before trailing 44-41 at the half.
Then, after withstanding an early Arizona run after intermission, St. John's took its largest lead with just over seven minutes remaining, before being outscored 23-6 to close out the game.
A big factor was leading scorer Nurideen Lindsey (18 points) picking up his fifth and final foul on a charge with little more than four minutes left, right after the Wildcats had retaken the lead.
"I think Lindsey is a really good player," Arizona coach Sean Miller said. "He seems to be the engine that makes that team go, and if you lose that it hurts you, especially in crunch time."
"I just know I've gotta be smarter in certain situations," Lindsey said.
Freshman guard D'Angelo Harrison added 16 points for the Red Storm, 14 of them coming in the first half. Fellow freshmen Moe Harkless and Phil Greene chipped in 13 and 12 points, respectively.
Arizona did much of its damage in both halves from behind the 3-point arc, draining 14 of its 29 attempts on the night. Seven different Wildcats connected on at least one of them.
"Most of those open 3s come off of our poor defensive footwork," Lavin said. "We have to amplify the awareness of that, do the drill work on that.
"And to Arizona's credit, they did a nice job of being patient and probing and looking for opportunities with good spacing to get into the gaps or seams, to find a crevice, draw two defenders and then pitch it back out. And they shot the ball very well."
Lavin also mentioned his team's high turnover total (17) and some poor shot selection early in the shot clock as other problem areas his team needs to work on. But he also highlighted some positives.
"I thought the run coming from [seven] down to go up eight [in the second half] showed some resiliency, and this team has demonstrated the ability to take a punch and then counterpunch," Lavin said. "[Also] shooting over 50 percent. And we competed against a team that has more size and depth, but we competed well on the boards."
The Red Storm shot 24-for-47 from the field for the game (51.1 percent), and lost the rebounding battle by just a single board (34-33).
Miller, who led Arizona to the Elite Eight a season ago, had very high praise for the Red Storm.
"St. John's has a very underrated team," Miller said. "They lack some depth and they're very young, but boy they have some very talented players, and I thought from their perspective they gave great effort."
"It was exciting tonight," Lindsey said. "The fans, they were really into it tonight. I think the way we play, our style of basketball, is just as exciting as it was last year. The guys last year did a great job of setting up the table for us for this upcoming year, and I think we're gonna be exciting this year."
The most impressive thing about St. John's performance on Thursday night was less tangible than any stat in the box score. After looking overwhelmed early in games last week, trailing at halftime against the likes of William & Mary and Lehigh, the Red Storm looked composed and capable on the grandest of stages.
After playing down to their competition last week, the Johnnies played up to their competition Thursday night -- going toe to toe with a team that lost its top two scorers but returned three starters from a squad that lost by just two points to eventual national champ UConn in an NCAA regional final.
Game 4 of the 2011-12 season marked St. John's first defeat -- and its coming-out party.
Miller put it best. "Tonight we were more of a function of a couple guys having been in the winner's circle from a year ago, finishing the game, showing a lot of toughness," the Arizona coach said. "Sometimes especially that next year comes around, November, you depend on that veteran feeling, that veteran leadership in tight moments late in the game."
Steve Lavin doesn't have any veterans yet.
But he will, come February and March.