NEW YORK -- This brand-new St. John's basketball team collected two more brand-new experiences on Saturday afternoon.
It played in its first overtime game, and suffered its first overtime defeat.
Villanova was the victor this time around, winning 79-76 in front of a spirited crowd of 11,430 at Madison Square Garden.
Interim head coach Mike Dunlap said the game came down to one thing. "We left the game on the free throw line. It's that simple," he said. "You can talk about the rebounds, you can talk about turnovers, but the bottom line is, free throws are easy baskets. And when you miss 11 of those, it's real simple."
Villanova outrebounded St. John's 52-36, including 24-8 on the offensive glass. And the Red Storm did commit 21 turnovers. But yes, when you shoot 14-for-25 from the foul line and lose by three, you have nobody to blame but yourself -- particularly when you miss five of eight attempts in overtime.
And you can spread that blame around. St. John's used seven players on Saturday, and four of them missed at least one free throw in OT.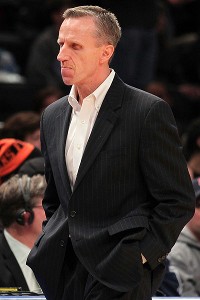 Anthony Gruppuso/US Presswire
Mike Dunlap: "We left the game on the free throw line."Why all the misses? "You can go crazy on that," said Dunlap. "But the first place you go is always legs, on free throws."
It could be legs, yes -- or it could be inexperience. All four of those players -- Moe Harkless, D'Angelo Harrison, God'sgift Achiuwa and Amir Garrett -- are Division I rookies. And they didn't just look like rookies on the foul line in overtime.
After building a 10-point lead with 6:51 remaining, St. John's couldn't put away a mediocre Villanova squad on its own home floor, allowing the Wildcats to tie the game with 1:54 left. "I don't think we ran out of gas," said Harrison. "I think it was more of we played tentative. We had the lead, we should be more aggressive out there."
Then, with the game tied at 67 and 11.7 seconds remaining, St. John's came out of a timeout and botched the potential game-winning possession when Achiuwa threw the ball away on a pass to Harkless cutting to the hoop. "It just needed to be bounced in the pocket as opposed to the direct pass," Dunlap said. "They did a good job of executing it by and large, but we had one little area that we need to improve on."
Despite missing all those free throws in overtime, falling behind by seven and losing Harrison to his fifth foul, St. John's still had a chance to tie the game on the final possession of OT. But again, the play did not go as designed. Instead of getting the ball to Harkless for a 3-pointer in the corner, the play disintegrated into a mad scramble, which ended with Sir'Dominic Pointer -- the fourth option, according to Dunlap -- front-rimming a trey.
"Coach drew up a good play," said point guard Phil Greene. "We didn't come out and execute it right, but we still had an opportunity and a good look to tie the game."
There were some bright spots for St. John's -- particularly Greene, who played his best game of the season, with a career-high 14 points, to go along with five assists and four rebounds. It's his second straight game scoring in double figures, after doing so just once in the team's previous 12 games.
"Phil has a way of giving way to everybody else, and what we've tried to do is reconnect him to his individual game," Dunlap said. "His individual game is a penetration game -- we added some pick and rolls, and he was able to get in the paint. We think he's a better athlete than he's playing, he's a better player. And so he has come alive."
And Harrison, after scoring just 13 points combined in St. John's previous two games, exploded for a career-high 28, 21 of them coming in the second half and overtime before fouling out.
"He is tough, man," said Villanova coach Jay Wright. "Give St. John's a lot of credit. We're a young team, and we're going through some struggles. That's a really young team, and those kids played really hard."
Villanova improves to 10-10, 3-5 in Big East play, while St. John's falls to 8-11, 2-6 in the conference. The Red Storm have lost four in a row, and six of their last seven.
The learning experience continues on Wednesday, when West Virginia comes to town.
"We're building something special, but it's gonna take time, and there are no magic fixes," said Dunlap. "It's a wonderful journey with a group of guys that are just getting an understanding of what Big East basketball is all about.
"These games will have tremendous meaning as they vector forward and go forward. It's fantastic to have the opportunity. It's painful -- we don't like to come in here off an overtime loss. But it was a grand effort."