NEW YORK -- Steve Lavin issued a State of the Program address on Wednesday, prior to St. John's game against West Virginia, saying "the future is very bright."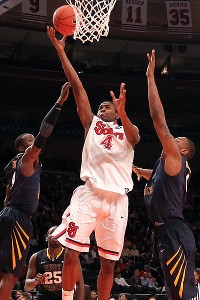 Anthony Gruppuso/US Presswire
Moe Harkless had one of his best games of the season Wednesday, with 23 points and 13 rebounds.
Then his young charges went out and made him look prophet-like, wiping the floor with a good West Virginia team, 78-62 at Madison Square Garden.
The victory snaps a four-game losing streak for the Red Storm (9-11, 3-6 Big East).
"It feels good," said St. John's assistant Mike Dunlap, who continues to coach the team while Lavin recovers from prostate cancer surgery. "And it's against a very fine organization. I mean, Coach [Bob Huggins] is one of the best coaches in the United States in my opinion, so you're not gonna get a cheap win against West Virginia."
Indeed, the Mountaineers (15-6, 5-3 Big East) had won three in a row, and just missed being ranked in the Top 25 in this week's polls. But they never led in this game, trailing by 16 at halftime, and as many as 20 in the second half.
"I think it's a question of, they played well, and we sucked," said Huggins.
Dunlap made a change to the starting five Wednesday, bringing God'sgift Achiuwa -- St. John's only true post player -- off the bench, and instead going with five freshmen guards and swingmen. Lavin suggested trying the lineup in a recent staff meeting.
"He just said, 'When you feel it, do it,'" said Dunlap. "And I felt it today."
The change paid immediate dividends, as St. John's came out aggressive both offensively and defensively. West Virginia was ranked No. 33 in rebounding in the country, but the Red Storm hung right with the Mountaineers on the boards. And the Red Storm had a 22-5 edge in fast-break points.
"The blueprint that Coach Lavin has put together to create excitement and a way of winning and a branding is running basketball," said Dunlap. "So I was pleased that beginning, middle and end we ran."
Forward Moe Harkless posted his seventh double-double of the season, with 23 points and 13 rebounds. But he had plenty of help. Shooting guard D'Angelo Harrison had another good game, with 19 points. Point guard Phil Greene continued his strong play of late, with 11 points and a career-high eight assists. And forward Amir Garrett made it into double figures for the first time in his St. John's career, with 11 points and seven rebounds.
"I think we're getting better every game, and you can see it out there," Harkless said. "Today we just played great, everybody did their job and had a good game."
"I saw the Fab Five, I didn't like that much," Huggins said. "I didn't like this a whole lot more. They got some talented guys, they're talented."
St. John's, despite its sub-.500 record, has had some impressive performances this season -- particularly its 91-67 thumping of Providence on Dec. 27 at Carnesecca Arena, and its 57-55 victory at Cincinnati on Jan. 7. But considering the quality of the opponent and the margin of victory -- and the poised, confident basketball they played -- this was the Red Storm's most impressive win to date.
Lavin, who met with beat reporters before the game to address his health and job status -- he feels better and definitely plans to return to the sideline eventually, but is still not sure if it will be this season -- spoke glowingly of his young team, despite its mediocre record.
"Even this young team, during their struggles, has shown glimpses -- kind of a sneak preview, of the coming attractions," Lavin said. "Anyone who knows basketball can see something special's going on here.
"Naturally as a coach you'd always like a couple more wins. And [you're] never satisfied with moral victories. And yet, I've been in the business long enough to be able to see when there's real growth. And you have a young group that's blossoming right before your eyes."
Last year, St. John's lost five of six games in January before a Jan. 30 meeting with Duke at Madison Square Garden. The Red Storm pummeled the Blue Devils, and went on to win all seven Big East games they played in February, en route to the NCAA tournament.
Don't expect that good a February from this team -- it's simply too young, and is bound to continue to be inconsistent.
But the future does indeed look a little brighter after a win like this.