NEW YORK -- Don't stick a fork in St. John's just yet. The Johnnies are not done.
Four days after the shorthanded Red Storm lost to Seton Hall by 30 and appeared to be running out of gas, they played with renewed energy and enthusiasm in a 66-63 win over UCLA on Saturday at Madison Square Garden.
"The fact of the matter is, we didn't feel good about the Seton Hall game," said St. John's assistant coach Mike Dunlap. "We tried to do something about it."
You could see the extra bounce in their step from the opening tip. St. John's took an early lead, and held it for virtually the entire game -- but never by more than six points. UCLA (15-12, 8-6 Pac-12) had a significant height advantage, starting the 6-foot-10 Wear brothers, Travis and David, plus bringing 6-10 Joshua Smith off the bench. But the Red Storm snagged 19 offensive rebounds, four more than the Bruins, which led to 26 second-chance points.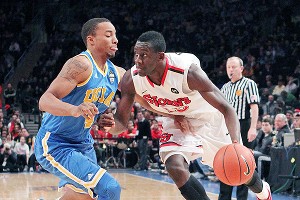 Anthony Gruppuso/US Presswire
Sir'Dominic Pointer had 13 points and seven rebounds for the Red Storm.
"I think we just played harder than they did," said St. John's forward Moe Harkless, who finished with 11 points, 13 rebounds and six steals. "Don't get me wrong, they played well. But I think we just wanted it a little bit more."
Shooting guard D'Angelo Harrison had a game-high 22 points -- his 10th 20-point game of the season -- to go along with eight rebounds and four assists. But it was the inspired play of swingman Sir'Dominic Pointer (13 points, seven rebounds) and point guard Phil Greene (11 points) that pushed St. John's over the top.
Pointer was one point shy of his career-high, and played arguably his best game of the season. Greene made the biggest, and most improbable, play of the day. With St. John's leading 64-62, eight seconds remaining and the shot clock about to expire, Harrison launched a desperation 3-pointer. It missed, but Greene came from underneath the basket to tip it in with five ticks left.
"We needed Phil and Dom to step up," Dunlap said, "and they did."
The win snaps a four-game losing streak for St. John's, which improves to 11-16 overall on the season (4-10 Big East). It also has to be a little extra sweet for St. John's head coach Steve Lavin, who held the same job at UCLA from 1996 to 2003.
Lavin watched the game from a luxury box upstairs at the Garden, as he continues to recuperate from prostate cancer surgery, and released a short statement to reporters after the game:
"I'm proud of the resiliency our team demonstrated today," Lavin said. "The collective effort to collapse into the basket area forced UCLA to live mostly with perimeter shots. Offensively the fellas played with both a confident and intelligent approach. The victory is a timely jolt of positive energy for the kids, staff and Johnnies Nation."
Dunlap actually credited his boss with giving the team a boost by attending practice on Friday and talking to the players. "It's good to have the leader back in there," Dunlap said. "He's been working really hard on the recruiting. But that energy, that voice, that frame-up got everybody pepped up, I thought. And it was fantastic for us, as witnessed by the outcome."
But it sounds like Lavin won't make his return to the bench until next season. In an interview with the CBS broadcast crew during the game, Lavin was asked about his return timeline.
"They've told me it's important that we go week-to-week," Lavin said. "I'm going to continue to focus on recruiting. I still come in and watch film with the players and I'm obviously involved in game preparation. I meet with the kids individually and make sure to get a meal with them every couple of weeks. They get to spend time with my wife, because she's more inspiring than I am in terms of their spirits. We're on track to be back next year."
In the meantime, the current six-man squad has four more regular season games in front of them, starting with DePaul on Monday night at Carnesecca Arena. And they sounded reinvigorated after finally getting back into the win column on Saturday.
"It gives us back our confidence, and gives us a little momentum going back into Big East play, and the Big East tournament coming up soon," Harkless said. "We just gotta keep playing hard, and keep working. And you never know, we could make a run."