PISCATAWAY, N.J. -- Rutgers lost its fifth game in a row on Sunday -- but the Scarlet Knights get an "A" for Effort.
Facing No. 2-ranked Syracuse, the Scarlet Knights hung right with the Orange for 37 minutes before ultimately losing 74-64 in front of a packed crowd at the RAC.
"I thought as far as the fight, and the compete, it was probably one of the more consistent games we've had in the last month," said Rutgers coach Mike Rice. "[We] just didn't finish plays."
The Scarlet Knights attacked Syracuse's trademark 2-3 zone beautifully, entering the ball into the middle at the high post and working from there. Sophomore forward Gilvydas Biruta had a monster game, with 21 points (tying his career high) and seven rebounds.
But the perimeter players weren't nearly as effective. Leading scorer Eli Carter shot just 3-for-13 from the field, and the team shot just 3-for-18 from the 3-point line.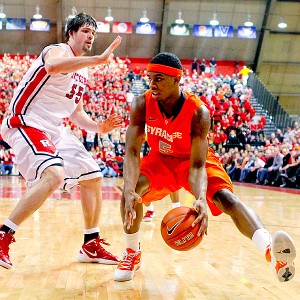 Jim O'Connor/US Presswire
Gilvydas Biruta (left) and C.J. Fair both scored 21 points on Sunday.
On the other side, forward C.J. Fair came up big for Syracuse, with 21 points and eight rebounds off the bench. And senior point guard Scoop Jardine was the difference-maker down the stretch. With 2:42 remaining and Syracuse leading by just two, 64-62, Jardine drained a jumper to extend the lead to four. Then he delivered the dagger, a trey with 1:12 left to make it 69-62 and essentially seal Rutgers' fate.
"Scoop made the plays down the stretch -- that's what you would hope [for] from a senior guard," said Syracuse coach Jim Boehiem.
"They have an unfair advantage with another college basketball coach in Scoop Jardine running the point," said Rice. "Just so composed, and understanding of what he wants to do."
In comparison, Rutgers started three freshmen guards on Sunday, who faced a huge gap in terms of experience compared with Jardine and and his backcourt mate, junior Brandon Triche. Rice thought that showed up at the free throw line -- Syracuse was 21-for-31 from the charity stripe, Rutgers just 9-for-11.
"Whether it was penetration, getting to the basket, drawing the contact -- this team still has young bodies and young minds, and in the Big East you have to seek that contact," Rice said. "So the free throw disparity hurts, and settling for probably too many jump shots."
Sophomore guard Mike Poole, who was the only other Scarlet Knight in double figures with 10 points off the bench, would not blame the loss on inexperience. "These guys have played 28 games, they're not freshmen no more," Poole said. "It's just not capitalizing on the shots we need to make, and not finishing the plays we need to finish."
Poole wasn't buying the moral victory argument, either. "Every game we lose, it just feels the same," he said. "When you fight so hard, to come up short, it takes a lot out of you."
Boeheim, although complimentary of Jardine and Fair, was not thrilled with his team, either, despite the Orange improving to 27-1 overall, 14-1 in the Big East.
"I don't think we're playing the way we have to," Boeheim said. "I thought at the beginning of the year we had some really good [offensive] movement in games. We really, I thought, were playing a lot better, particularly on offense."
When asked to explain why he thinks his team is underperforming of late, the coach pointed the finger at Dion Waiters. The 6-foot-4 sophomore has been arguably the best sixth man in the country this season, but has only scored in double figures twice in the team's past seven games, including just seven points on Sunday.
"I think Dion's struggled a little bit," Boeheim said. "He really hasn't been shooting the ball very well. And I think he's probably struggled the most."
Nevertheless, Syracuse likely has several more weeks of basketball to look forward to, with the Orange expected to play deep into March and contend for another national championship.
As for Rutgers? Year 2 of the Mike Rice era certainly hasn't gone exactly as he'd hoped -- the Scarlet Knights are now 12-15 overall, 4-10 in conference play.
But there is reason for optimism here. Rutgers doesn't have any seniors. Rice started three freshmen and a sophomore on Sunday, and went toe-to-toe with arguably the best team in the country.
And that's no fluke. This young squad already owns two wins against Top 25 opponents this season -- something St. John's hasn't been able to accomplish, for instance. These guys seem to play better the bigger the stage.
"I think that's growth," Rice said. "Unfortunately in the Big East, growth doesn't always mean victories."