PISCATAWAY, N.J. -- Winning ugly -- that's what Rutgers did Saturday night.
But it counts just as much in the standings.
In the last game of the Big East regular season, the Scarlet Knights (14-17, 6-12 Big East) squeaked past St. John's, 61-58, and in the process gained the No. 11 seed in next week's Big East tournament.
The Red Storm (13-18, 6-12 Big East) lose the head-to-head tiebreaker with Rutgers, and have to settle for the No. 12 seed.
"This is a confidence builder, going into the Big East tournament," said Rutgers guard Mike Poole. "We just needed to get this win."
The game was far from aesthetically pleasing, but the biggest play of the day was a beauty -- Dane Miller's put-back one-handed slam off an Eli Carter miss with nine seconds left, putting Rutgers ahead 59-58.
"It's all about angles rebounding the ball," said Miller, who posted his seventh double-double of the season, with 10 points and 10 boards. "I knew where he shot it from, I just ran straight to the rim and I was in the air -- when the ball came out it went right to my hands."
"It's a fitting moment, especially of the way he's played the last four weeks of the season," said Rutgers coach Mike Rice. "When he gives that energy and that toughness, we're a much better team."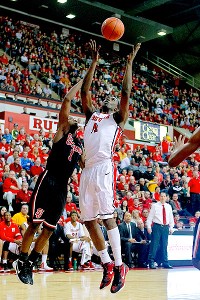 Jim O'Connor/US Presswire
Dane Miller continued his fine play of late against St. John's, and made the play of the game.Neither squad led by more than five points over the course of 40 minutes. St. John's guard D'Angelo Harrison missed a long 3-point attempt with under five seconds remaining -- and following a pair of Carter free throws, saw his half-court heave rim out at the buzzer, which would have tied the game.
"I had a chance to win it," said Harrison, who had a team-high 17 points but shot just 6-for-17 from the field. "I didn't take advantage of it."
Fellow Big East Rookie of the Year candidate Moe Harkless had an off night, with just eight points, shooting 4-for-15.
Neither team shot better than 37 percent from the field. But their performances at the foul line were drastically different. Rutgers made 16 of 21 attempts from the charity stripe; St. John's was just 10-for-22.
"It was a matter of us, our ability to hit our free throws," said St. John's coach Mike Dunlap. "You can talk about this play or that play, but that right there, that piece is glaring to me."
The Red Storm entered the game shooting 68.4 percent from the foul line, ranking them 196th in Division I -- the middle of the pack. But free throw misses have cost them dearly in several games this season.
As for Rutgers, Rice was happy with his team after the game, despite the fact they shot the ball so poorly -- including just 30 percent in the first half, which ended in a 25-25 tie.
"I was proud of them, and they didn't understand," Rice said. "It wasn't phony at halftime. I was really proud of our guys. They were awful, and yet they defended. And yet they just hung in there. They found a way, and in this league you have to do that."
Dunlap was proud of his guys, too, coming off an 89-69 pounding at Pittsburgh three nights before.
"For us to come in here off of the Pitt loss and perform the way we did, rock solid," Dunlap said. "Defensively I was really disappointed in our effort [against Pitt], and I thought our effort tonight was drastically different."
Rutgers, which won two of its last three to end the regular season, will now face No. 14 seed Villanova on Tuesday at 9 p.m. The Wildcats just beat the Scarlet Knights two nights ago at the RAC, 77-71.
"I hope this gives us energy. I hope this recharges our batteries," Rice said. "I like the fact that it's a quick turnaround with somebody who just got done beating you -- hopefully that's a little more added motivation."
St. John's also has a quick turnaround -- they get a rematch with No. 13 seed Pittsburgh, Tuesday at 2 p.m.
"We've gotta rebound better," Dunlap said. "[Pitt] absolutely beat us from pillar to post off the glass. So that was something that I think we can correct."
"They beat us pretty bad," Harrison said, of Pittsburgh. "We felt like we didn't play our brand of basketball. We'll be at home, so we'll definitely have a lift going into that game."
Both teams finished with six conference wins. But for Rutgers, it's their most Big East victories since 2005-06.
"They deserve it," said Rice of his players. "They fought through a lot of different circumstances this year, especially for a young team.
"They're getting better. They're not as soft. They're responding better. That's all it is."
Now these two teams, both chock-full of freshmen, wade farther into unchartered waters -- postseason play.
How will they handle this stage? We'll find out starting Tuesday afternoon.
The regular season is in the books, folks.
March Madness has officially arrived.