Louisville guard Russ Smith Jr., a Brooklyn native, will play the biggest game of his career on Saturday night, a Final Four matchup with top-ranked Kentucky that has consumed the Bluegrass State.
Louisville is David to Kentucky's Goliath in this game in New Orleans, with a berth in the championship game at stake.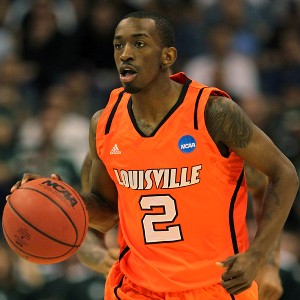 Jamie Squire/Getty Images
Russ Smith Jr.
Smith, who starred at Archbishop Molloy in Queens, understands the enormity of the moment -- not that he's paying any attention to it.
"Pressure doesn't really bother me," he said. "I look at every game the same way."
If the Cardinals have any chance at chopping down Kentucky, they will need a strong contribution from Smith, a 6-0, 160-pound, score-first player that coach Rick Pitino nicknamed "Russ-diculous."
The nicknames have grown on campus, including the "Russeller," "Russell-mania" and, of course, "Russ-sanity."
The sophomore guard is averaging 13.3 points during the tournament and dropped 30 when Louisville lost 69-62 to Kentucky in late December. But it's Smith's propensity to freelance, take risks and maybe have a little too much fun that has made him both sensational and given Pitino headaches, causing the coach to say that Smith is "from a different planet."
When Louisville beat New Mexico to make the Sweet 16, you could see Smith making bunny ears behind Pitino's head during a postgame television interview. Reports have recounted one practice where Smith gave himself props for a pass during a scrimmage, screaming, "Great pass, Russ!"
Florida coach Billy Donovan called Smith's play "crazy" after he scored 19 points to lead Louisville to a comeback win and its first trip to the Final Four since 2005. Smith, known as a scorer, ran the offense for the final four minutes after starting point guard Peyton Siva fouled out. Smith relished that moment.
"It was definitely something that everyone kind of dreams of: starting guard is out or fouled out, there's four minutes left and you have to handle all the ball-handling duties. That's the perfect position," Smith said. "That's the position that you wouldn't give anything up for and I'm just really glad I got that opportunity."
Smith would call his father after games last season when, as a freshman, he was stuck to the bench, battling an array of injuries ranging from a broken right foot to two concussions.
He played in 17 games in his freshman season and averaged 5.6 minutes. Smith was used to playing most of game and carrying an offense his entire career.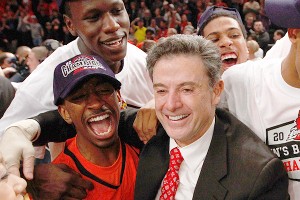 Debby Wong/US Presswire
Smith and Pitino used their Big East tournament title as a springboard into a Final Four run.
"It definitely sucked," Smith said. "I don't have a better word for it. It sucked."
Russ Smith Sr. said that his son, despite his reserved off-the-court demeanor, relishes opportunities to shine when the lights are the brightest. Like when he sunk two free throws with 17.8 left to give his team a 71-68 lead over Florida last week, just seconds after he nearly blew the game by getting caught up in the air and passing to the Gators' Bradley Beal.
That's who Russ Smith, Jr. is: high risk, high reward.
"It was very difficult to get upset at Russ for any length of time because every time he did something wrong, he came back at you with a big grin on him," said legendary coach Jack Curran, who let Russell-mania run wild at Molloy. Curran compared Smith to fellow Molloy alum Kenny Anderson because of his ability to beat defenders off the dribble. But Curran had seen few scorers like Smith, for better or worse.
It worked perfectly for Pitino, another New York product who Curran once coached at one of his basketball camps in Queens. Curran said the union between Pitino and Smith is perfect because Pitino was a feisty guard, too. But he is also a perfectionist, something that Smith, at least for now, is not.
"It's like being in a marriage," said Smith Sr. "There's ups and downs, and at the end of the day you're going to love each other. There's no disrespect whatsoever, only confusion."