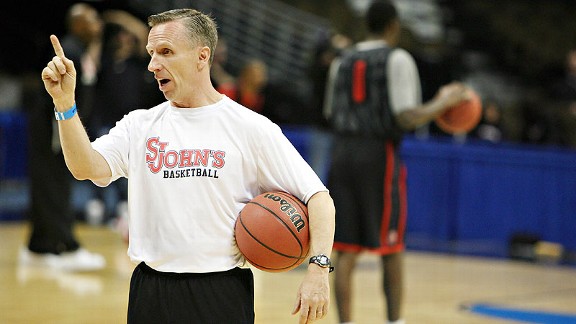 Chris Humphreys/US Presswire
Stunning news broke in the basketball world when St. John's announced that assistant coach Mike Dunlap has been tabbed to become the next head coach of the Charlotte Bobcats.
An NCAA assistant, making the leap to NBA head coach in one fell swoop? That certainly doesn't happen every day.
It's an intriguing decision by the Bobcats and majority owner Michael Jordan -- a move sure to be dissected over the coming weeks and months.
Dunlap does have NBA experience -- he was an assistant coach with the Denver Nuggets for two seasons under George Karl from 2006-08. He also has head coaching experience, winning two Division II national championships at Metro State in 2000 and 2002. And he did a commendable job at St. John's, this past season in particular, essentially serving as head coach while Steve Lavin recuperated from prostate cancer surgery and missed all but four games.
The question in our neck of the woods is, where does St. John's go from here?
Lavin will be back on the bench this fall, and he just put the finishing touches on an excellent recruiting class by reeling in ESPN 100 big man Chris Obekpa last week.
But the loss of Dunlap is a significant one, in terms of Lavin's rebuilding project in Queens.
Fellow assistant coaches Tony Chiles and Rico Hines are still in place, but their strengths are recruiting and skill development. Dunlap exerted great influence with the Red Storm in terms of X's and O's -- particularly when it comes to the matchup zone defense the team has employed under Lavin since he came aboard prior to the 2011-11 season.
Just when things appeared to be starting to stabilize at St. John's, prior to Year 3 of the Lavin Era, the program is again in a state of flux.
Who does Lavin hire to replace Dunlap? Well, that's the next key decision when it comes to the future of Big East basketball in the Big Apple.