Michael Kidd-Gilchrist, a former standout at St. Patrick High in Elizabeth, N.J., doesn't have a clue as to which team is going to draft him Thursday night. And that bothers him.
"It's a hard feeling for me because in high school I got to pick, and then in college I got to pick," Kidd-Gilchrist, a likely top-five selection, said during Wednesday's NBA draft media availability at the Westin Hotel in Times Square. "It's going to be real hard for me. I don't know where I'm going to go and I want to know, like now."
One thing Kidd-Gilchrist isn't is laid-back; he speaks and plays with intensity, which he says he gets from his mother, Cindy Richardson -- and from hating to lose. He wants to have an impact on every facet of the game, and that mentality has helped him become arguably the most versatile scorer and defender in the 2012 draft class. He considers himself "one of a kind."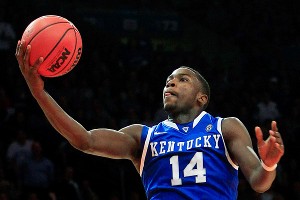 AP Photo/Frank Franklin II
Michael Kidd-Gilchrist
When the 6-foot-7, 232-pound Kidd-Gilchrist hears his name called, he will be the youngest player in the NBA; he doesn't turn 19 until Sept. 26. He's less than two years removed from St. Patrick, where he starred with current Cleveland Cavaliers point guard Kyrie Irving. In fact, they have a chance to play together in the NBA because the Cavaliers have the fourth pick, and Anthony Davis, Thomas Robinson and Bradley Beal are predicted to go in the top three.
Kidd-Gilchrist also finds it surreal that the draft location, the Prudential Center in Newark, is only about two miles from his high school.
"Oh, man," he said. "An emotional feeling for me, for my family, friends."
It will be even more emotional for Kidd-Gilchrist because his father, Michael, and uncle, Darrin Kidd, won't be sitting next to him in the green room.
When Gilchrist was just a month shy of his third birthday, his father was murdered. Uncle Darrin collapsed from a heart attack in November 2010 and, despite Kidd-Gilchrist's attempt to revive him with CPR, he died -- on the same day Kidd-Gilchrist signed a letter of intent to play for Kentucky, where he spent one season and won a national championship.
In July 2011, Kidd-Gilchrist legally changed his name to honor both his father and uncle, and he has used both of their former jersey numbers. He wore 14 at Kentucky for his uncle, and he'll go with 31 in the NBA for his dad. He also wore 31 in high school.
Kidd-Gilchrist will find comfort in the support that awaits him after the draft. Calling it a "family affair," he's planning to bus roughly 120 family and friends to New York City to party at Jay-Z's The 40/40 Club. Many of his St. Patrick teammates will be there, including Irving.
"It's a brotherhood," he said. "Me, Kyrie, Dexter Strickland [who's at North Carolina]. It was a really good experience at St. Patty's. I mean, I loved it a lot and that's where I come from."
Outside of traveling to several NBA cities for individual workouts, Kidd-Gilchrist spent much of the pre-draft process in northeast Ohio -- where Irving lives -- working out at Beachwood High School in preparation for the draft. Occasionally, NBA player Jonny Flynn trained with him.
Kidd-Gilchrist said a priority was working on his jump-shot consistency, which is considered to be his biggest weakness. Off the court, he has focused on his speech impediment to better prepare him for the interview process; he also has tried to get used to the increased schedule and attention, which he doesn't enjoy too much right now.
"At first, I didn't like it at all. It's overwhelming at times," he said. "A lot of traveling and stuff like that. I don't like that at all.
"And this media stuff, I don't like it at all, but it's what I gotta do. But I'm just staying focused, man. I'm working hard every day."
While Kidd-Gilchrist said playing at national powerhouse St. Patrick helped prepare him for this point in his basketball career, he'll first have to get past Thursday night.
"I'm anxious, nervous a little bit. My life starts tomorrow," he said Wednesday. "But I'm excited for everything that's coming."
So what's his first purchase going to be to celebrate?
"Some food," he said. "I'm going to get hungry after the draft. I'm going to get a big steak for me and my mother."