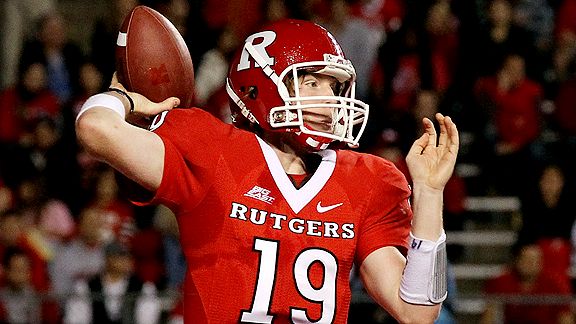 Jim McIsaac/Getty Images
Rutgers, coming off an exciting 27-24 comeback win versus UConn last Friday night, is ready for its final non-conference game of the regular season, versus Army, at the New Meadowlands Stadium on Saturday.
The game will kick off at 2 p.m., and air exclusively on ESPN3.com.
True freshman quarterback Chas Dodd will make the second start of his college career for the Scarlet Knights, coming off an extremely impressive debut against UConn. Dodd completed 18-of-29 passes for 322 yards and two touchdowns. The performance garnered him Big East Offensive Player of the Week honors.
"I am excited about it," Dodd said earlier this week, after learning he would get a second start. "Just practicing this week preparing and focusing on what we have to do to get ready for the next one."
Dodd replaced sophomore Tom Savage, who went to the bench because of an injury to his throwing hand. But the truth is, this move was probably coming anyway. Although Savage had a very impressive first season, setting the Big East record for passing yards by a true freshman, he had seriously struggled in the first four games of this season. Dodd swiftly re-energized the Scarlet Knights' offense after replacing the injured Savage in the Tulane game two weeks ago, and was even better against UConn.
Savage will back up Dodd on Saturday, even though he is still not 100 percent. And, Savage said earlier this week that he understands the starting quarterback job is no longer exclusively his, but hopes to compete to get the job back once he is completely healthy again.
"Every position in our program is an open competition every week and that's been proven," Schiano said. "That's not just me saying it; you look at my tenure as coach, that's been proven."
In the meantime, Dodd said Savage has been very good to him. "He's helped me out tons," Dodd said. "I've asked him about his experiences last year, coming in and getting the starting job, just how he felt and how he coped with it. Especially on the field, when I come off the field he's always helping me out, telling me what maybe I didn't see. He's a big help."
Rutgers is hoping to go to 4-2 on the season, before playing its final six games against Big East opponents. But it won't be an easy task. Army is 4-2 and much-improved -- in fact, its only two losses were by a field goal to Hawaii (31-28) and by a touchdown to Temple (42-35).
Rutgers coach Greg Schiano has been worried about this game since the preseason. In fact, the Scarlet Knights spent practice time in the preseason focused on this game, even though it was the sixth game of the season.
Why? Because Army is a very unorthodox team.
"This is a tough, tough team to prepare for," Schiano said. "Offensively, they run a triple option. They've added a few things formation-[wise] as well as plays that makes it much more difficult to prepare for."
"Offensively, we're facing a defense that is different than what we've played," Schiano added. "They play the flex or what used to be the Desert Storm. [It's] a little bit different in the way they line up, a little different in the way their responsibilities are played so it's certainly a challenge."
These teams have played each other 36 times dating all the way back to 1891, with each team winning 18 times. And this is the first time since 1993 that both teams have winning records when facing each other.
Suffice it to say, it's an important game for both teams.
As for why it's being played at the New Meadowlands Stadium? Well, Schiano put it bluntly.
"It was purely financial," Schiano said. "I know as the head coach of the football program at Rutgers, we're part of the university, we're part of an athletic department and I don't think it would be responsible not to take advantage of the opportunity that's presented to us."
According to The Star-Ledger, Rutgers will make $2.7 million by playing the game at the Meadowlands -- money that could help other sports programs at the school, besides the football team.
Normally, the school takes in about $1.5 million for a home game at Rutgers Stadium.