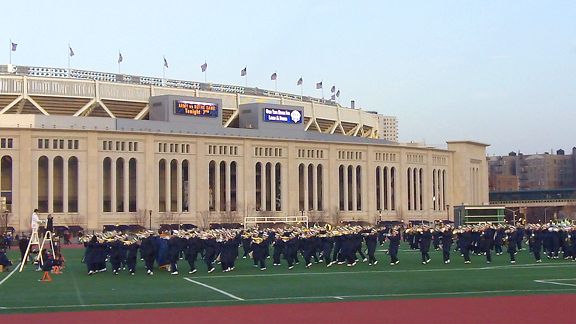 Ian Begley
NEW YORK -- Notre Dame-Army isn't scheduled to kick off until 7:30 p.m, but the Irish marching band got the festivities started a few hours early with a 3 p.m. rehearsal across the street from Yankee Stadium at Macombs Dam Park.
Notre Dame's 400-person marching band went through their pregame and halftime ceremony. They played a few songs, including Frank Sinatra's "New York, New York."
They marched in an "NY" formation during the "New York, New York" performance -- a preview of what is to come at halftime of Saturday night's game, the 50th meeting between the Fighting Irish and the Black Knights.
The Yankees invited community groups to view the performance. Many members of the Bronx Colts -- a local youth football team -- were on hand.
The band later made its way across the street to the Stadium and is seated in temporary bleachers located in the right-field corner of the stadium.
The Yankees inserted bleachers in the home and away bullpens, and the left- and right-field corners, which put the capacity for tonight's game at 51,000 -- or 1,000 more than it would be for a baseball game.