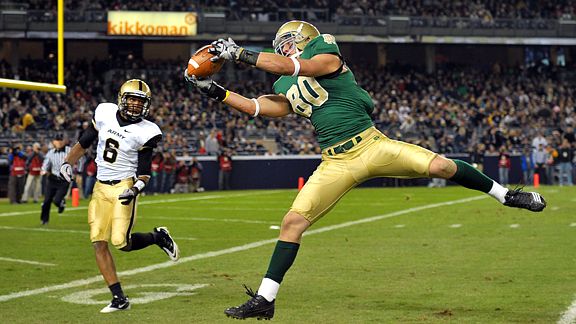 Matt Cashore/US Presswire
Notre Dame's Tyler Eifert hauls in a second-quarter touchdown catch.
WHAT IT MEANS: Notre Dame won the first college football game at the new Yankee Stadium, defeating Army 27-3 before a record crowd of 54,251. The win ups Notre Dame's record on the season to 6-5, with one game remaining -- meaning the Fighting Irish will be bowl-eligible in coach Brian Kelly's first season at the helm. Army drops to 6-5, but is already bowl-eligible -- a major accomplishment for the Black Knights, who haven't been to a bowl game since 1996.
THE FUTURE IS NOW: Freshman Tommy Rees started at quarterback for Notre Dame with Dayne Crist out for the season with a knee injury. And Rees performed well, completing 13 of 20 passes for 213 yards, with one touchdown and one interception. Rees really threw two TD passes -- two perfect lobs to tight end Tyler Eifert, one from 36 yards away and the other from 31. But the first one was reviewed, and the referees decided Eifert's knee touched the ground at the 1-yard line. Notre Dame punched the ball into the end zone on the next play anyway.
D-FENSE! D-FENSE! Army accumulated 78 yards and five first downs on its opening drive of the game, which resulted in the Black Knights' only points of the night. After that, the Fighting Irish flat-out shut them down. Army only accrued 95 yards and three first downs the rest of the game. Enough said.
KICKING PRETTY: Notre Dame kicker David Ruffer was 2-for-2 on field goals -- including a 47-yarder in the first quarter, to tie the game up at 3-3. Ruffer is now 15-for-15 on field goals for the season, and 20-for-20 for his Notre Dame career. To make the story even better, Ruffer didn't even start out as a varsity player -- he was discovered kicking for an intramural team. Click here to read more.
WHAT'S NEXT: Notre Dame wraps up its regular season across the country at USC next Saturday. Army will finish its regular season with its traditional rivalry game versus Navy, on Dec. 11 at Lincoln Financial Field in Philadelphia. And Yankee Stadium will get ready to host the Pinstripe Bowl on Dec. 30.