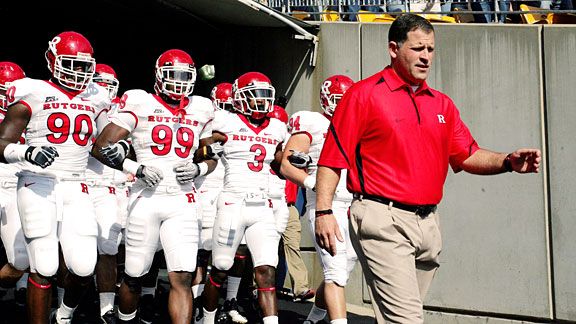 Charles LeClaire-US Presswire
Greg Schiano leads his team into Tampa Wednesday night, hoping to pick off South Florida.
Rutgers is at a turning point of its season, as it prepares to face South Florida on Wednesday night at Raymond James Stadium in Tampa.
Kickoff is slated for 7 p.m., and the game will air on ESPN2 and ESPN3.com.
The Scarlet Knights are 4-3 overall, and 1-1 in the Big East -- one of only three teams in the conference with one loss or less, along with Pittsburgh (3-0) and Syracuse (3-1). A loss Wednesday night would severely hamper Rutgers' chances of securing at least a share of its first-ever Big East championship.
South Florida comes in 4-3 as well. The Bulls are 1-2 in Big East play, but are coming off an exciting 38-30 win at Cincinnati.
Rutgers hasn't played a game Oct. 23 -- a disappointing 41-21 loss at Pitt. But that was Rutgers' first game since defensive tackle Eric LeGrand suffered a devastating spinal cord injury, which almost certainly took a toll on the entire team.
With 10 days off between games, the players have had a little extra time to regroup from the Pitt loss, and process what has happened to their teammate.
"I don't think they will ever not have [LeGrand's injury] on their minds," Rutgers coach Greg Schiano said at his weekly news conference on Saturday. "In life, you always have something else going, you don't just play football in a tunnel. I think as time moves on people will adjust emotionally better to the situation. Hopefully, it becomes where we can have a little more normalcy, but it will never be normal. Things have drastically changed for us ... [although] not nearly as drastically as they have changed for Eric."
Schiano announced on Monday that freshman Chas Dodd will start at quarterback for the fourth straight game, even though Tom Savage -- who began the season as the starter -- is 100-percent recovered from his rib and throwing-hand injuries.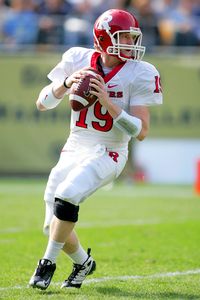 Charles LeClaire/US Presswire
Chas Dodd got the starting nod for Wednesday night's game, even though Tom Savage is healthy.
Savage struggled early this season before getting hurt, while Dodd was outstanding in leading the Scarlet Knights to come-from-behind victories against UConn and Army in his first two collegiate starts. But Dodd hit his first speed bump against Pitt, completing just 8 of 19 passes for 62 yards with an interception. Savage relieved Dodd late in that game and threw a touchdown pass -- so if Dodd struggles against South Florida, don't be surprised if you see Savage come in again.
On the other side of the ball, the Rutgers defense will have to contend with USF sohphomore quarterback B.J. Daniels. Daniels threw for 1,983 yards and 14 TDs last season, with only nine interceptions -- and he ran for 772 yards and nine TDs. But he's been up and down this season under new coach Skip Holtz. He's thrown for 1,089 yards and has a higher completion percentage than last year, but he's not running as much and has already thrown 10 picks, one more than all of last year.
Still, Schiano said the Scarlet Knights are very wary of Daniels. "We have our hands full," Schiano said. "If he is not the best athlete in this league, he is one of the top three and I think he is the best athlete. ... He has got a cannon and can beat you in many different ways."
Rutgers needs at least two more wins in the season's remaining five games to secure a winning record and a chance to go to a bowl game for the sixth consecutive season. We'll see if the Scarlet Knights can pick up one of those wins down south on Wednesday night.