She's very close to Fordham's all-time wins record, but that's not of paramount importance to softball pitcher Jen Mineau. Although she might be the best pitcher in school history, standing just two wins shy of her school's all-time mark, Mineau is only focused on what her team can accomplish in the next few days.
"It doesn't really mean much to me if we don't win the Atlantic-10 tournament," Mineau said. "We have to do that. None of the records mean anything unless you take the championship trophy home."
Mineau, a junior with seven no-hitters in her career, will try to lead Fordham to its first-ever A-10 tournament title and tie the school's all-time wins record on Saturday. Fordham is the top seed and is 2-0 in the tournament. They are just one win away from the title after defeating Massachusetts, 1-0, in extra innings on Friday. Mineau is 74-28 overall in her career.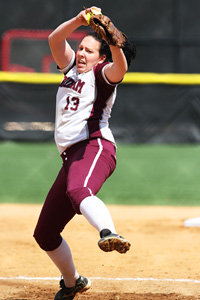 Courtesy of Fordham University
Fordham ace Jen Mineau is 22-7 this season with a 1.25 ERA and 258 strikeouts.
"She'll definitely accomplish [the all-time wins mark] and she deserves it," fellow pitcher Chelsea Plimpton said. "She's won some really big games and she's one of the big reasons why we have been put on the map and she deserves that award."
In not quite three full seasons at Fordham, including two injury-riddled years, Mineau already has a laundry list of accolades at the Bronx-based school.
She has four perfect games among her seven no-hitters, including one in the 2010 Atlantic-10 tournament. This season she is 22-7 with a 1.25 ERA and 258 strikeouts. She has one perfect game and one no-hitter.
Mineau, a native of Schaghticoke, N.Y., is already the school's all-time leader in strikeouts, shutouts, no-hitters and career ERA, while closing in some other milestones. Mineau is also the single-season leader for appearances, games started, complete games, wins, innings pitched, strikeouts, shutouts and ERA.
Coach Bridget Orchard, who has been with the Rams the past 10 years and led the program to its first winning season, called her junior ace the best pitcher she has had and an important piece as the Rams try to build their program to a top level.
"I think the team sees what she does on the field -- when she's pitching well, she shuts people out," Orchard said. "We have the confidence behind her and our hitters can hit better when she's shutting people out, relax a little bit more knowing if they can score a run we can win a game with her on the mound. I think that leads to overall team confidence as well."
She is armed with a drop ball, a rise ball and a "nasty" curveball, according to Rams pitching coach Brealand Edwards. He said Mineau's confidence and ability to overcome adversity are critical factors in her success on the mound. Edwards said she's mentally prepared and does her homework before each start, knowing the vital statistics about each hitter she is going to attack during the course of a game.
Overcoming adversity has been something Mineau has been forced to do at Fordham, as she has battled through injuries. In both her freshman and junior seasons, she played with a stress fracture in her right foot. She also has tendonitis and degenerative arthritis in her right foot.
Not surprisingly, the best season of her career came in her sophomore year when she was fully healthy -- that's when she set her handful of single-season records for the Rams, going 34-9 on the season.
Minaeu said the right foot problems are an injury that she's come to accept. It won't go away until the end of the season, so she has to do the proper maintenance until then. When she's pitching, she tries not to let the pain get to her. And she described the injury as one that aches after extended playing time, but when pressure is applied there's sharp pain in the middle of her foot.
"The right foot is her landing foot, which can be problematic as it can affect the snap and bite on her pitches," Edwards said.
To monitor the injury, the Fordham coaching staff scaled back Mineau's starts and innings this year. This has allowed her teammate, Plimpton, to start more games during the course of the year -- keeping Mineau ready to go for the playoffs. The plan appears to be working.
"All pitchers want to pitch as much as they can, but I'm definitely more fresh now than I was last year when I wasn't even injured," Mineau said. "I definitely feel a lot better going into the postseason than I did last year."
That is bad news for Fordham's opponents. With the Rams not assured of an at-large bid to the NCAA championship, winning the A-10 tournament would be their easiest and most hassle-free way to make it back for the second straight year. Last season was the first time the Rams were ever selected.
The ball will be placed in Mineau's hands. She's up to the challenge.
"It would just be wonderful," Mineau said of possibly winning the title. "Our senior class is very special and it would be wonderful to be able to send them off with Fordham's first A-10 championship."