NEW YORK -- St. John's keeps playing ranked opponents -- and keeps losing to them.
The Red Storm, who knocked off six Top 25 teams a year ago, are now 0-7 against them this season after losing 69-49 to No. 11 Georgetown on Sunday at Madison Square Garden.
The final score doesn't tell the whole story -- this was a three-point game with 6:36 remaining -- but it's another disappointing defeat nonetheless, dropping St. John's to 8-9 overall, 2-4 in Big East play.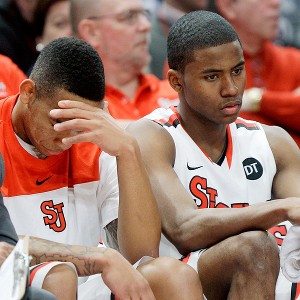 AP Photo/Seth Wenig
D'Angelo Harrison (left), Moe Harkless and the Red Storm endured another loss to a Top 25 opponent.
Interim head coach Mike Dunlap pointed to his team's 14 turnovers as a key factor -- turnovers and Georgetown's Hollis Thompson, who torched the Red Storm for 20 points, all of them in the second half, including five 3-pointers.
"I thought that Hollis was the difference," Dunlap said.
Freshman forward Moe Harkless was excellent for St. John's, finishing with 21 points and 10 rebounds -- his sixth double-double in the past 10 games. But Harkless fouled out with 5:15 remaining and St. John's trailing by eight, effectively taking the Red Storm's comeback chances with him to the bench.
Georgetown coach John Thompson III lauded Harkless after the game. "He is tough," Thompson said, chuckling. "He can score a lot of different ways. Glad he got in foul trouble, 'cause he's a load to handle. He's a versatile player -- a very, very good offensive player."
It was the second straight game St. John's lost a key player early – shooting guard D'Angelo Harrison fouled out with 11:23 left in the Red Storm's 83-64 loss at Marquette on Wednesday.
Speaking of Harrison, he had his worst game of the season on Sunday, making just one of 12 shots from the field and finishing with five points, 10 below his average.
"I just try to take shots that are there," Harrison said. "I think I got blocked a couple of times, so that kinda hurt. I just gotta stay with it -- my teammates did a good job of keeping me in the game.
"Just a tough game for me. I'm gonna get better."
Dunlap said there were "some really good pieces" in this game -- particularly in the first half, when St. John's held Georgetown to 9-for-27 shooting from the field (33.3 percent), although the Red Storm still trailed 25-19 at intermission.
And St. John's did make a run to cut the lead from 12 to three in the second half, before Harkless exited and the margin got out of hand.
Georgetown drained 16 of 29 shots in the second half, and it appeared St. John's and its seven-man rotation wore down, particularly on the defensive end.
"Conditioning becomes a factor, and then the slides aren't as effective," Dunlap said. "I think they have a good understanding of what we're trying to do, and they're getting a better understanding. But I think our resources are a little shallow to keep up that intensity in the second half."
It's tough to beat anyone when you shoot 17-for-54 from the field (31.5 percent), and 0-for-10 from 3-point range.
"Offense is rhythm, offense is timing -- there are a lot more subtleties to offense than defense," Dunlap said. "We know that the things that we're doing are correctable."
"They were really long," said Harkless of Georgetown. "I think we didn't do a great job of attacking their zone. I think we'll just get better."
There are no reinforcements arriving this season. St. John's must carry on with the seven players it has, six of whom are getting a baptism by fire in their first year of Division I basketball.
The Red Storm's next three opponents are currently unranked. But there are three more Top 25 teams on the schedule, as of now -- three more opportunities to pick up a signature win in this tumultuous rebuilding season.
We'll see if they're up to the task.