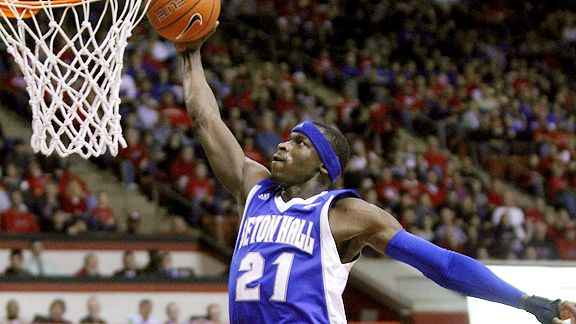 AP Photo/Mel Evans
Jeremy Hazell reached the 2,000-point mark for his Seton Hall career.Recap | Box score | Photos
PISCATAWAY, N.J. -- A quick take on Seton Hall's 69-64 win over Rutgers on Saturday night at the Louis Brown Athletic Center:
WHAT IT MEANS: Seton Hall improves to 11-14 overall, and 5-8 in Big East play. It's a huge win for the Pirates, after losing to their in-state rival last month in Newark. They were coming off a brutal 61-59 loss to No. 7 UConn last weekend, in which they blew a 14-point lead in the second half. And this win comes on the same day coach Kevin Willard kicked reserve guards Keon Lawrence and Jamel Jackson off the team "due to a violation of team rules and an ongoing pattern of conduct unbecoming of a representative of Seton Hall athletics."
Rutgers drops to 13-12 overall, and 4-9 in the Big East. It's a disappointing loss for the Scarlet Knights after their incredible, last-second win over No. 10 Villanova on Wednesday.
THE SKINNY: Rutgers raced out to an 11-5 lead early in this one, but Seton Hall controlled things from there to intermission. The Pirates led by as many as eight, 31-23, and led 34-27 at halftime. Jordan Theodore had 11 points to pace the Pirates in the first half; Gilvydas Biruta had 13 for the Scarlet Knights.
Rutgers scored the first eight points of the second half, surging to a 35-34 lead. But that didn't last for long: Seton Hall countered with a 12-2 stretch, opening up a nine-point lead, its biggest of the game. Rutgers never quit -- in fact, the Scarlet Knights cut the deficit to 54-53 with under 3:39 to play. But then came the biggest shot of the game -- a Jeff Robinson trey that put some permanent space between the Pirates and the Scarlet Knights.
STAR WATCH: The teams' leading scorers -- Jeremy Hazell for Seton Hall, and Jonathan Mitchell for Rutgers -- were both in double-figures. Hazell scored 19, and in the process became only the fourth player in Seton Hall history to score 2,000 career points. Mitchell finished with a game-high 24 points on 10-for-15 shooting.
But the most valuable player of the game was Theodore, who finished with 18 points, six assists and four rebounds. Theodore, who normally starts but came off the bench in this game, shot 7-for-9 from the field and 3-for-5 from 3-point range. Theodore was already an important player for the Hall, but he became even more so after Lawrence and Jackson were dismissed from the squad. Theodore will have to play a ton of minutes for this team the rest of the season.
Also worth noting: Rutgers' second-leading scorer, Dane Miller, put up a goose egg, going 0-for-4 from the field.
BIG NUMBER: Rutgers really hurt itself by not taking care of the basketball. The Scarlet Knights came in ranked No. 42 in the country, committing only 11.9 turnovers per game. But they had 18 on Saturday night against Seton Hall.
WHAT'S NEXT: Seton Hall will host No. 10 Villanova on Tuesday. Rutgers has a week off, before playing No. 13 Syracuse at the Carrier Dome next Saturday.