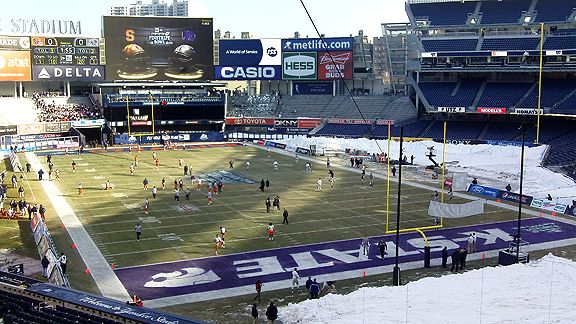 Kieran Darcy
A shot of Yankee Stadium, a couple hours prior to kickoff of the inaugural Pinstripe Bowl.
NEW YORK -- Despite the extra challenge they were dealt by the weather -- more specifically, the sixth-worst blizzard in the history of New York City -- the Yankees have deemed the inaugural Pinstripe Bowl a success.
"The financial story of this bowl game has been outstanding," said Yankees president Randy Levine, in a news conference held two hours before kickoff. "We've already exceeded our budget, and that's with a few unexpected snow removal dollars. We have well over 40,000 seats sold to this game."
Yankees chief operating officer Lonn Trost said the exact number was 44,133, at the time of the news conference. That includes over 6,000 tickets which were given away to charity groups and armed-forces veterans.
More than 400 workers were employed round-the-clock to remove snow from Yankee Stadium the past few days. Approximately 1,500,000 pounds of snow were removed -- more specifically, 495 tons from the plaza outside the stadium, and 240 tons from the internal bowl of the stadium.
Snow remains behind one end zone, and beyond the sidelines near the first- and third-base foul poles. But the field is indeed clear.
"In the face of the sixth-largest snowstorm in the history of New York City, we still were able to have a field and a stadium and a facility that the fans can enjoy, the players will enjoy," Trost said. "And the student-athletes will have a remarkable experience."
Adminstrators from both Kansas State and Syracuse sounded happy with the proceedings leading up to the game, despite the challenges presented by the weather.
"When we were on the subway coming here a little while ago, we had a lot of K-State people on there," said Dr. Kirk Schulz, Kansas State's president. "And people said, 'You know, despite the weather and all that stuff, we're playing in the first one.' And 30 years from now, that's what people are gonna be able to say. Hey, we played in the first bowl game that was played there."
"Our student-athletes and our coaches and all of our people had a wonderful time this week," said Syracuse athletic director Dr. Daryl Gross. "You guys put on a great show."