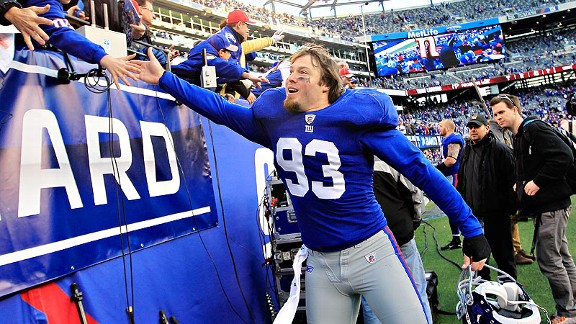 Chris Trotman/Getty Images
Chase Blackburn and the Giants won the first playoff game ever hosted at MetLife Stadium.The trailer outside Chase Blackburn's home near Columbus, Ohio, was a symbol of hope.
Inside the trailer were all of the free-agent linebacker's possessions, from his suits to his baby's crib.
Blackburn figured an NFL team was going to call, and then he and his family and the trailer would move to another city.
The calls came, as did the workouts, but there were no teams interested in making Blackburn an offer.
So he and his family waited, and waited, and waited. Three months went by. Eventually, most of the contents inside the trailer were emptied.
Only a couple of bags remained.
Blackburn was ready to move on with his life and take a job as a substitute middle school math teacher, he told reporters Monday. But on Nov. 29, the Giants called.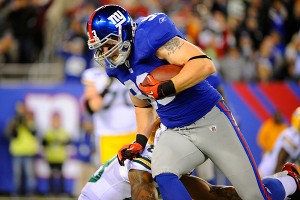 Rich Kane/Icon SMI
Chase Blackburn picked off an Aaron Rodgers pass on Dec. 4 in East Rutherford.
They wanted him back.
Blackburn had just watched his former team -- the same team that elected to go in a different direction in the offseason -- get massacred by the Saints on Monday Night Football.
Six days later, he was manning the middle, and intercepting a pass by the best quarterback in the league, Aaron Rodgers, in the Giants' 38-35 loss to the Packers.
"I think he'll know who 93 is this time," Blackburn said, six days before the Giants will face 15-1 Green Bay in the divisional playoff round.
Blackburn spent the first six seasons of his career with Big Blue. The 28-year-old even served as the team's special teams captain last season.
But the Giants decided not to re-sign Blackburn because they felt they had enough depth at linebacker with the additions of rookies Greg Jones, Spencer Paysinger, Mark Herzlich and Jacquain Williams.
But once their season began, injuries began to mount. Jonathon Goff and Clint Sintim went down in the preseason. Michael Boley hurt his hamstring in San Francisco, and then Herzlich hurt his ankle in New Orleans, which opened up an opportunity for Blackburn. And he's made the most of it.
"For whatever reason, I was overlooked and things weren't in the cards for me at the time," Blackburn said. "[Am I] playing with a chip on my shoulder? Yes. But I'm just trying to make this team a better team and help them win."
Blackburn stayed in shape by lifting and running at home and landed workouts with Detroit, the Giants, Cincinnati and St. Louis during the season.
None of them amounted to anything. But Blackburn never gave up. And as it turned out, he didn't have to change professions.
"I have no idea why he wasn't on the football team all this year," defensive captain Justin Tuck said. "But we're lucky in the fact that we were able to get him late in the season.
"He's pretty healthy, fresh and he's definitely helped this football team."
The trailer never did go east with Blackburn. Instead, it was returned to its owner -- Blackburn's father.
And now it's Blackburn who represents a symbol for Giants, who are looking to shock the world again and win their fourth Super Bowl title in franchise history.