The New York Giants were the smarter team, the hungrier team, the tougher team. They exploited the NFL's lowest-rated defense and, for the second time in five years, they ended one of the great quarterbacking seasons in history.
And they made Green Bay Packers coach Mike McCarthy go from genius to dunce in about three hours.
An inside look at the Giants' 37-20 victory Sunday in the NFC divisional playoffs:
DUMB AND DUMBER: Remember how they broke the New York Jets' will on Victor Cruz's 99-yard touchdown late in the first half of their Week 16 win? Well, they did it again, this time with help from a McCarthy brain cramp. The last 15 seconds of the first half -- two plays -- changed the game.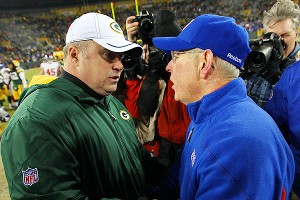 Jamie Squire/Getty Images
Mike McCarthy matched wits with Tom Coughlin ... and didn't win.
The Giants were content to run out the clock on a third-and-1 from their 40-yard line, but they received a gift because McCarthy called a timeout -- one of several questionable decisions. To compound the bad strategy, the Packers seemed disinterested, letting Ahmad Bradshaw run for 23 yards and giving him a free lane to step out of bounds to stop the clock with six seconds left.
On Eli Manning's 37-yard Hail Mary to Hakeem Nicks, the Packers were downright lazy. A review of the game tape showed they had only two defenders in the end zone, with five others trailing between the goal line and 8-yard line. Some appeared to be loafing. As a result, they had no one to "front" Nicks in the end zone, allowing him to box out two defenders and make a Tyree-esque catch for a 10-point halftime lead.
RUSTY RODGERS: McCarthy's decision to rest many starters in the final regular-season game will be debated through a long, cold winter in Green Bay. Aaron Rodgers & Co. went three weeks between games, including the bye, and it showed.
The Packers dropped six passes, with six different players dropping a ball, according to ESPN Stats & Information. That tied for the most in the league this season. Even Rodgers, nearly flawless all year, was off his game, missing at least two wide-open receivers. They also lost three fumbles, half their total from the regular season.
The layoff also affected the Packers' tackling, the biggest miss coming on Nicks' 66-yard touchdown in the first quarter. Instead of trying to wrap him up, safety Charlie Peprah led with his shoulder and bounced off Nicks at the Packers' 47.
LAMBEAU LEGEND: There's something about cold weather and Green Bay that brings out the best in Manning. (See the 2007 NFC title game.) He passed for 330 yards and three touchdowns, making the Packers pay whenever he had time in the pocket.
Packers defensive coordinator Dom Capers mixed up his calls, using almost as many blitzes as standard rushes -- and it worked at times. Under duress, Manning was only 3-for-10, according to ESPN Stats. Problem was, the Packers couldn't maintain consistent pressure against an offensive line motivated by B.J. Raji's insult from last week.
When Manning had time, he shredded the Packers' overmatched secondary, completing 18 of 23 for 285 yards and three touchdowns. On long passes (15 or more yards), he hit eight of 10 for 206 yards and two touchdowns. He hit Nicks three times, two for touchdowns, conjuring up images of Manning-to-Plaxico Burress in the '07 title game.
Manning was on his own for much of the game, without much help from the running game, yet he still managed to kill on play-action (7-for-9, 155 yards, two touchdowns). In the postseason, he's been an absolute beast on play-action passes.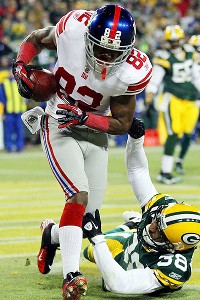 Jonathan Daniel/Getty Images
Mario Manningham's 4-yard TD on a play-action pass from Eli Manning gave the Giants a 30-13 lead.
He used play-action to ice the game, hitting Mario Manningham on a 4-yard touchdown to make it 30-13. Manning used the play fake to freeze linebacker A.J. Hawk, and he used his eyes to draw Hawk out of position. That created a passing lane in the middle, and he found Manningham matched up against a safety for the touchdown.
It was a subtle, yet brilliant play by Manning -- one of many.
WEBSTER ISLAND: To avenge their Week 13 loss to the Packers, the Giants needed much better coverage from their cornerbacks, Corey Webster and Aaron Ross -- and they got it.
Rodgers completed only 11 of 23 passes outside the numbers, according to ESPN Stats. In the previous meeting, he toasted the cornerbacks throughout the game, hitting a remarkable 21 of 25 outside the numbers.
This time, Webster & Co. were physical at the line of scrimmage and did a nice job of disrupting the timing between Rodgers and his wideouts. They took away Rodgers' first read, forcing him to check down or take off with the ball.
HOLY BOLEY: Linebacker Michael Boley played perhaps his finest game as a Giant, recording eight solo tackles, two sacks and three tackles for loss. His two sacks were huge momentum-changing plays.
Sack No. 1 set up the Manning-to-Nicks Hail Mary. On a third-and-5, defensive coordinator Perry Fewell used a five-man rush, with three down linemen and DE Justin Tuck in a stand-up position in the middle of the formation. Tuck ran a stunt with Osi Umenyiora, leaving Boley singled up with running back James Starks.
Sack No. 2 came on a fourth-and-5 from the Giants' 39, early in the fourth quarter -- another decision by McCarthy that backfired. Once again, the Giants rushed five. Once again, Boley was isolated on a back, Brandon Saine. The underneath coverage was excellent, eliminating the short crosses, allowing the rush to get home.
THE FAB FOUR: This game was billed as the Giants' front four vs. Rodgers -- and the Giants didn't do anything to trick it up. They stuck to what they do best, letting their four defensive linemen handle the bulk of the pass rushing.
In fact, the Giants (four sacks) used four or fewer rushers on 45 of 56 dropbacks -- the highest ratio of standard pressure against Rodgers this season, per ESPN Stats. Actually, the trend started three games ago, when the Kansas City Chiefs didn't blitz much at all en route to their stunning upset.
Teams that don't have to rely on blitzing have an advantage against high-powered passing teams because it allows them to drop extra an player -- or players -- into coverage. That's how the Giants ended Tom Brady's magical season four years ago in the Super Bowl.
NICK OF TIME: Sometimes a fraction of a second can be the difference between paydirt and face in the dirt. For example, let's examine Umenyiora's third-quarter sack from the Giants' 31. He slapped the ball out of Rodgers' passing hand just as the quarterback was about to load his trigger for what could've been a long touchdown pass.
Wide receiver Greg Jennings ran a slant-and-go and was wide open downfield because Ross bit hard on the slant and Rodgers' pump fake. If Rodgers had been able to deliver the ball, it probably would've been a touchdown (barring another drop) and the Giants' lead would've been cut to three.
The Giants were a split-second faster than the Packers all night, which is why they're moving on and the Packers are making tee times.