The idea of sharing New York/New Jersey with his older brother, Peyton -- perhaps even becoming neighbors -- is an intriguing scenario to Giants quarterback Eli Manning, even if he doesn't know if it would ever happen.
"Yeah, it would be fun," Manning joked on Monday, during his his weekly spot on ESPN New York 1050 radio. "We could probably commute to work maybe. We could come home, eat dinner together, have the kids playing ..."

Listen to the complete interview:

"Have bunk beds, just like the old days?" host Michael Kay interjected.
"Exactly. Twin beds," Manning said. "We can share notes on opponents and watch some film together."
When asked if Peyton Manning would be coming to Eli's town if such a scenario were to take place, Manning replied with a laugh, "That's right. That's right."
On a serious note, Eli made it clear that he doesn't know if Peyton would ever end up as a New York Jet, and that he wasn't campaigning for it to happen.
"I don't know what is going to happen in that situation," Manning said. "Would it be fun? Yeah, I think it would be interesting to have your brother in the same city playing football together.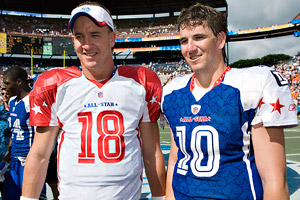 AP Photo/Marco Garcia
Will Peyton Manning (left) leave Indianapolis? The rumor mill has been working overtime.
"It would be interesting. I am not saying it is going to happen or I want it to happen, but to have your brother that close to you and playing in New York would be very unique."
Manning, who will play in the NFC Championship Game against San Francisco and hopes to extend the finest season of his career, talked about the lofty expectations set for him because he shares a last name with Peyton, a four-time MVP.
"Maybe just because Peyton had a six-year head start on me," Eli said. "All of a sudden, his second year he got into playing in a high level, playing great football, and they were going to playoffs and making it to second and third round several times.
"All of the sudden people expect, 'Well, hey, here comes little brother.' and they are expecting the same thing to happen. He is going to automatically have immediate success and he is going to be in the playoffs every year.
"My first year starting, my second year in the NFL, we did make the playoffs," he continued. "Was I playing perfect football? No. But I was competing and learning and getting reps, and it is a process. I kept working on my craft and getting better and eventually it is coming around. You never know how long it is going to take."