As a veteran, David Carr is a big believer in the effect of coaching.
When he takes a look at the rise of his former team, the 49ers, and former teammate Alex Smith, the Giants' backup quarterback believes their success stems from first-year head coach Jim Harbaugh. The Giants meet the 49ers on Sunday at 6:30 p.m.
"I went out there because they had a very talented football team and the only thing they were missing was they had to bring it all together. And Harbaugh has done that, and that's the reason why they're in the NFC Championship Game," Carr said. "It's not a surprise to me that they're here, it's not a surprise that Alex is in the game. They were always talented. They were always a good football team."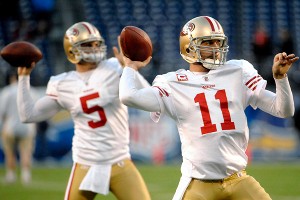 AP Photo/Denis Poroy
David Carr (5) and Alex Smith were teammates last season in San Francisco.
Carr spent the 2008 and 2009 seasons with the Giants before leaving to join the 49ers. When he re-joined the Giants this summer, Carr said that he was brought to San Francisco under the assumption he would be competing for the starting job, but when the team changed general managers that opportunity was not available. He only played in one game with the 49ers.
Ultimately, the 49ers changed coaching regimes for this season and brought in Harbaugh, who led the team to the No. 2 seed in the NFC. The 49ers cut Carr in July and he re-signed with the Giants, winning the backup job to quarterback Eli Manning. Carr has not played in a game this season but had to take first-team reps on Wednesday with Manning's sickness.
Carr said Wednesday that his one year with San Francisco was a rough situation for everyone involved, even mentioning how Smith went from being the starting quarterback to being demoted to the backup during the year.
"Now you see where [Smith] is at, we're both in different positions but we're both in the NFC Championship Game. They got a great head coach, they're rolling, I'm happy where I'm at, so it's a totally different world from where we were all at a year ago," Carr said.
As the 49ers went 13-3 this season, one of the biggest reasons was the play of Smith, the often-criticized quarterback. Smith, the No. 1 pick in the 2005 draft, struggled to put it all together before finally having a career year this season. A former No. 1 pick himself, Carr said that he roots for Smith and is happy for him.
"I think we all kind of have a bond, quarterbacks in general. You never want to see a guy struggle, never want to see a guy have tough times. He's had enough of both," Carr said. "I think that to where he's come out the other end is a testament to his mental toughness. Being with him for a year I think that's his strongest quality I took away from him, how mentally tough he is and how he can kind of just shrug things off and keep going the course. It's pretty impressive."