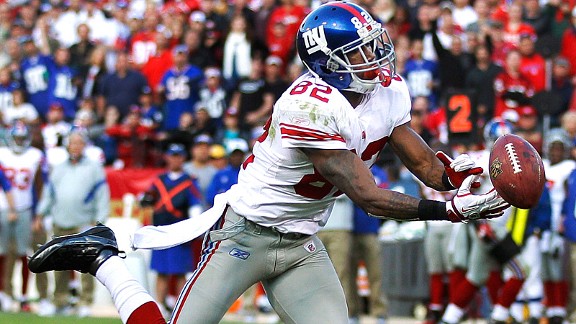 AP Photo/Marcio Jose Sanchez
If Mario Manningham had made this catch on Nov. 13, the Giants could've forced OT with the PAT.EAST RUTHERFORD, N.J. -- Mario Manningham remembers that drop, the one that was almost a touchdown and would have sent the Giants to overtime in San Francisco the first time these teams met.
Asked about what was "almost" a touchdown, the Giants wide receiver wasn't happy.
"Almost? Almost, right?" Manningham said. "I ain't catch it. You playing wide receiver you got to have a short-term memory, man. Should've had it."
He will get a chance to rewrite that history on Sunday when the Giants head back to San Francisco for a rematch in the NFC Championship Game. Manningham said his knee felt good, and agreed with the idea that it's better than it has been all season.
Manningham has been a contributing member of the wide receiving corps recently, and had three catches for 31 yards in the 37-20 win over Green Bay last Sunday.
"We're a different team than we was earlier," Manningham said.
It's easy enough to peek around the corner and see the Super Bowl there for the taking. Manningham conceded that could be a risk for a team, but not for the Giants given the fact that they lost to the 49ers earlier.
"It'd be different if we didn't play this team," Manningham said. "But we played them and we know what they bring. We know we got to win. They beat us last time so we can't look past them."
Although some on the current Giants roster might remember what it feels like to be in the playoffs and win a Super Bowl, Manningham notes that it isn't the wide receivers.
"This our first time as wide receivers being in the playoffs," Manningham said. "I mean, yeah, we're enjoying it, but we know what we're here for. To win it. For real. We're here, why not go win it all? We made it this far."