There was a funny exchange at Tom Coughlin's Thursday news conference, when the Giants head coach was asked about his roller-coaster ride with media and fans this season.
Tara Sullivan of The Record brought up people calling for Coughlin's job after the Giants lost to the Redskins in Week 15, and the fact that when she Googled his name today, the Hall of Fame came up.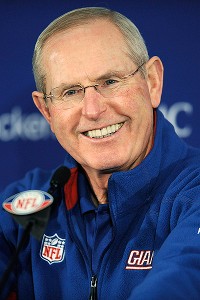 AP Photo/Bill Kostroun
Tom Coughlin
"You just summed it up," Coughlin said, laughing. "That's exactly the way it comes across.
"You're coaching in this job here, you're really one or the other."
After everyone stopped chuckling, Coughlin got serious, when asked how he deals with this.
"You want the honest truth? I just keep the blinders on and go straight ahead," Coughlin said. "I don't have anything to do with what's being said on the outside, so I really -- the priorities and the way I think about it, I don't let it affect me in any way.
"I do believe in the John Wooden statement: We like praise, we don't like criticism, but if you let either one of those things affect your preparation, then you've got a problem."
As for Coughlin's Hall of Fame chances? If the Giants beat the 49ers on Sunday and go on to win Super Bowl XLVI, he certainly will get some consideration.
While not every head coach with two championships has made Canton (see: Tom Flores, Jimmy Johnson, George Seifert), Coughlin is currently tied with Jeff Fisher for 19th in all-time NFL coaching wins (142), and led the expansion Jacksonville Jaguars to two AFC Championship Games, in addition to his tenure in New York.
What say you, Giants fans?