Everyone has been talking about the Giants' defensive line, and how much impact it's had during this current run to the NFC Championship Game.
On Thursday, defensive coordinator Perry Fewell called his front four the key to his defense and its success.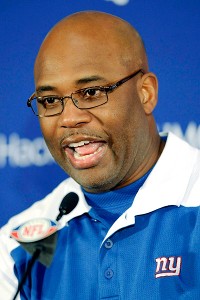 AP Photo/Bill Kostroun
Perry Fewell
"That's where our energy comes from, that's where our confidence comes from, that's where our swagger comes from," Fewell said. "Those guys, unlike most teams that you are associated with, they set the tone for us. They are the catalysts for what we do and how we do it. It sets the whole mindset for our defensive football team."
When asked to elaborate on why this is unusual, Fewell said:
"On our team, on the New York Giants, you have three or four defensive ends, and then two tackles -- the two tackles really set the tone in the middle for you, but you have three or four defensive ends that can change the complexion of the ballgame on any given play.
"A lot of teams that I've been associated with in the past, you may have one, possibly two -- when you had two, you felt like, 'Man, we are great up front.' But if you have three or four, at any point in time one of those guys can make a game-changing play like Osi [Umenyiora] did last week."
Who will make the big play this Sunday? Justin Tuck? Jason Pierre-Paul? Umenyiora again?
The Giants will likely need a game-changer from one of those three to vanquish the 49ers.