SAN FRANCISCO -- There's something about the New York Giants that makes their opponents forget who they are. Let's call it the Schottenheimer Schyndrome, and the San Francisco 49ers were infected by it Sunday night in the NFC Championship Game.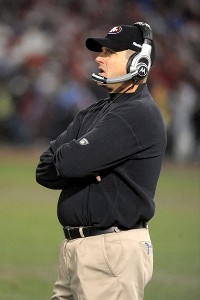 Kirby Lee/US Presswire
Jim Harbaugh had a great first year as an NFL head coach, but made some mistakes on Sunday.
It started in Week 16, when New York Jets offensive coordinator Brian Schottenheimer went pass-crazy against the Giants, with 67 drop backs -- a dramatic departure from the Jets' run-oriented style. That's why he's now working in St. Louis.
The 49ers, built similarly to the Jets, fell into the same trap. They called passing plays on 58 percent of their snaps, including 24 of 35 plays after halftime. It was unusually high for the 49ers, especially since it was a one-possession game from start to finish -- a 20-17 Giants win in overtime.
Jim Harbaugh probably will be named NFL Coach of the Year, but this wasn't his finest hour. In fact, the 49ers called pass plays on the first play in each of their last five possessions, eschewing a Ground & Pound attack that churned out 150 yards in the Candlestick muck. He played to the Giants' strength, rushing the quarterback and defending the pass.
The 49ers were only 4-4 when they passed at least 55 percent of the time; it's not their deal. Maybe Harbaugh, like a lot of Bay Area fans, got caught up on the Alex Smith bandwagon after his thrilling performance in the divisional round. Smith has improved, no doubt, but he's no Joe Montana and he has only one weapon, tight end Vernon Davis.
Here's an inside look at the Giants' win, with help from ESPN Stats & Information:
MORE HARBAUGH: While we're on the subject of the 49ers' coach, we can't let him off the hook for his play calling at the end of the first half. When he needed to be aggressive, he got conservative, going three-and-out and giving the ball back to the Giants with 1:36 on the clock.
The Giants capitalized. They went hurry-up and made a field goal as time expired, taking a 10-7 halftime lead -- huge points, as it turned out.
FIVE SECONDS TO GLORY: It may have been the slowest 40-yard sprint of Jacquian Williams' life, but it was the most memorable. Actually, it was only 35 yards, but it still wasn't a great time.
To get into position for The Strip, his game-changing forced fumble on a punt return in overtime, Williams sprinted 35 yards, unimpeded. After a close examination of the game tape, our stopwatch says it took him 4.8 seconds -- hardly the kind of time that would turn heads at the NFL scouting combine.
But in this case, it was fast enough. Actually, Williams almost over-ran the play, but he reached back as Kyle Williams ran past him, barely getting his fingertips on the ball to knock it loose. That, of course, set up Lawrence Tynes' game-winning field goal.
THAT'S INCREDIBLE: Eli Manning set team postseason records for completions (32) and attempts (58), and he came within six attempts of tying Bernie Kosar's all-time league mark in the postseason. Without a doubt, Manning's finest moment was his third-and-15 strike to Mario Manningham for a 17-yard touchdown in the fourth quarter.
Tom Coughlin called it "an incredible football play." It was. He showed awareness and patience, all in the span of about 10 seconds.
Out of a trips-left formation, Manning noticed Tramaine Brock -- the 49ers' No. 4 cornerback -- had replaced the injured Tarell Brown. Brock was on Manningham, who ran a deep post. The 49ers made the correct call -- they rushed only three, dropping eight into coverage -- but Manning waited until a window opened.
Tight end Jake Ballard ran a crossing route, freezing safety Reggie Smith for a split second. That opened the window for Manning, who, under moderate pressure, fired a laser to Manningham.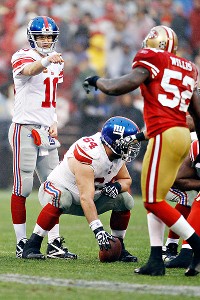 Jason O. Watson/US Presswire
Eli Manning was cool under pressure on Sunday in San Francisco.
ELI, PART II: Manning has terrific field vision. He sees things most quarterbacks don't recognize until they see it on tape the following day. Take his first touchdown pass, for instance -- a 6-yard throw to tight end Bear Pascoe.
Manning had his eyes on wide receiver Victor Cruz, who ran a right-to-left crossing route. Just as he was about to pull the trigger, Manning noticed that Cruz's route was disrupted because he bumped into a teammate, Ballard. Manning held up, pulled the ball down and, simultaneously, noticed Pascoe breaking free on a shallow, left-to-right cross.
Manning re-loaded.
Touchdown -- the first in Pascoe's NFL career.
MIDDLE MEN: Because of Manning's arm strength and their speed at receiver, the Giants are a perimeter passing team, but they changed it up against the 49ers. Manning worked the middle, with 35 of his 58 pass attempts going between the numbers -- double his usual ratio.
Cruz was his main man in the first half, as he abused cornerback Carlos Rogers, but he started to draw double-teams in the second half. That really hurt the Giants on third down; at one point, they failed on seven straight third downs. But they adjusted, as Manning started working the ball to running back Ahmad Bradshaw and tight end Travis Beckum over the middle.
IRON MAN: Obviously, the Giants came into the game hell-bent on throwing the ball, probably a wise move against the 49ers' tenacious run defense. They ended up calling pass plays on 64 out of 90 snaps, the kind of ratio that got Schottenheimer run out of town. Of course, it makes a difference when your triggerman is Manning, as opposed to Mark Sanchez.
Here's another way to look at it: The 49ers' pass rush had 64 shots at Manning and not once -- not once -- did he lose a fumble or throw an interception. That was rather remarkable, considering the soggy conditions. The 49ers treated him like a pinata, hitting him a total of 12 times, including six sacks.
He refused to let go; his team refused to let go.
SIMPLE, BUT EFFECTIVE: Giants defensive coordinator Perry Fewell didn't do anything exotic with his game plan; he didn't have to against the 49ers' meat-and-potatoes offense.
As usual, Fewell put this game on his front four. In fact, the Giants rushed four or fewer on 28 of 33 drop backs, their highest ratio of the season. They registered only three sacks, which isn't half-bad, but that number is deceiving.
On third-down passes, Smith was sacked or under duress on seven of 12 drop backs. That explains why the 49ers were an abysmal 1-for-13 on third down. That pressure, coupled with outstanding coverage by cornerbacks Corey Webster and Aaron Ross, choked the life out of the 49ers' passing game.
Smith completed only one pass to a wide receiver, a pedestrian corps that was overmatched by the Giants. The Giants had only two hiccups, twice leaving a safety in man-to-man coverage against the explosive Davis. The result was 73- and 28-yard touchdowns.
Aside from those breakdowns, the Giants were spot on.