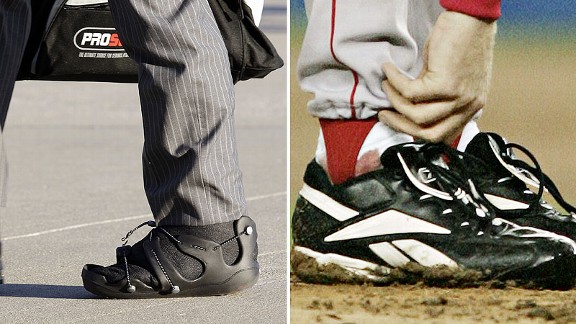 AP Photos
Rob Gronkowski and Curt Schilling have a lot common -- starting with their footwear.Where have we seen this before? A Boston athlete playing the "will he play or won't he play?" charade because of an ankle injury when everyone knows he will play.
And now, adding to the "drama" comes word that Rob Gronkowski may wear a special cleat on Sunday.
Quick, quick, call the people from Heinz!
Mr. Suture himself, Curt Schilling, made a statement in 2004 with his Game 6 performance, exacting some revenge on the Yankees after 86 years of torture. Now, four years after the Giants put 18-1 into the sports vernacular, Gronk will try to pull a Schill.
In the meantime, we at ESPN New York thought it would be appropriate to put Gronk under further examination and see how he compares to Schilling.
TALE OF THE TAPE
New England Patriots tight end Rob Gronkowski vs. ex-Boston Red Sox pitcher Curt Schilling
*Schilling has always said it was blood. Announcer Gary Thorne caused a stir a few years back, reporting it was ketchup. Thorne later said he was wrong and apologized. So we're having fun. After all, Schill now is our "Red Light" guy on Baseball Tonight.