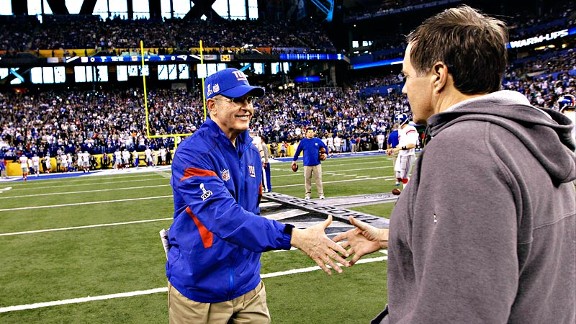 AP Photo/David J. Phillip
Giants coach Tom Coughlin, left, has twice beaten Bill Belichick, right, in Super Bowls.
Tom Coughlin is no longer in front of the firing squad.
Now, the New York Giants coach is on top of the football world.
Coughlin captured his second championship with the Giants after his team beat the Patriots, 21-17, in Super Bowl XLVI. At 65, Coughlin became the oldest coach to win a Super Bowl in NFL history. He now has nine road/neutral-site postseason wins, matching the legendary Tom Landry's postsesaon record. Coughlin is 9-4. Landry was 9-10.
"There's not one coach in this league that I'd trade Tom Coughlin for," Giants co-owner John Mara said after the game. "He's a two-time world champion now."
And to think, about a month ago, pundits were calling for Coughlin's head. His team started off 6-2, but lost five of its next six, and was in danger of missing the playoffs for a third straight season.
But under the direction of Coughlin, the Giants won their final six straight games to capture the Lombardi trophy for the second time in five seasons. They also beat the Patriots in Super Bowl XLII.
"You share this with all the players, the coaches and all the people that did a tremendous job to get us here," Coughlin said. "It's a marvelous feeling. ... I'm just thankful and very grateful for the opportunity I've had with the New York Giants."
Coughlin is under contract for next season, but no seasons after that. Of course, it seems like a formality that he'd be offered a multi-year contract to become one of the highest paid coaches in the NFL -- assuming he wants to continue on.