INDIANAPOLIS –- The New York Giants returned to New Jersey as world champions on Monday, and already some players are looking forward to defending their title.
On the morning after their second Super Bowl in five years, a few Giants said they can do even better next season.
Anybody ready for "All In," the sequel?
"Oh, man, I really want to keep this team together," running back Brandon Jacobs said as the team boarded their buses to leave Indianapolis on Monday morning. "Do what we've got to do to keep us together. It's a great football team. This football team could do this again, I honestly believe that."
Big Blue's Super Season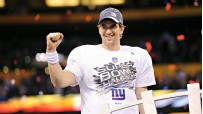 Now that they've put away the Pats in Super Bowl XLVI, we look back on the Giants' road to the title. Gallery

More: Super Bowl XLVI

Party

"There is no reason why we can't do this again," Jacobs added.
The Giants partied into the early morning hours in Indianapolis, many of them sounding hoarse and looking sleep-deprived. Coach Tom Coughlin joked that he got about "15 minutes" of sleep.
"We celebrated hard last night," Jacobs said. "Guys were everywhere. Tears flying everywhere. It was an astronomical event."
Eli Manning won't get much sleep the next few days as the Super Bowl MVP. But he has gone through this before and is a veteran at this by now.
Considering the way Manning played this season, there's no reason not to think the Giants could make another run. Manning threw for a career-high 4,933 yards, 29 touchdowns and 16 interceptions.
"This business about elite quarterbacks, I think that question's come and gone," Coughlin said. "I don't think we'll hear much about that again."
Manning added 1,219 yards, nine touchdowns and just one interception in the Giants' four postseason wins.
"He's only the fifth player to be named on a multiple basis as MVP of the Super Bowl, and he joins a pretty elite group of quarterbacks that achieved that," NFL commissioner Roger Goodell said at a news conference for Manning winning the Super Bowl MVP trophy. "I think it was Terry Bradshaw, Bart Starr, Tom Brady and Joe Montana. So that's a pretty elite group, and well-deserving."
Super Bowl XLVI: Giants 21, Patriots 17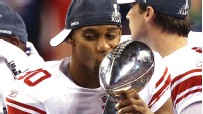 Once again, the Giants battled back in the closing minutes to beat the Patriots in a Super Bowl. Super Zone » Blog »At 31, Manning is just entering his prime, and he has a young core of big-play receivers in Hakeem Nicks, Victor Cruz and Mario Manningham, who will be a free agent. Running back Ahmad Bradshaw is still just 25 years old and hopefully will have time for his foot to heal. The team has a promising tight end in Jake Ballard, whose contract is also up, and an experienced offensive line.
"I'm excited about a number of young guys who stepped up this season," Manning said. "There were some questions going into the beginning of the season on a few spots, but that quickly got answered. Victor Cruz has been a great story, Jake Ballard. Some of these guys have played great football, made great plays for us this year. We knew we had good players on this team."
"A veteran offensive line, two running backs who won Super Bowls before and played well," Manning continued. "Hakeem Nicks, who was here. Mario Manningham. These guys have made big plays in games over the years."
And not only do the Giants have a franchise quarterback in his prime, but they have an intimidating pass rush as well. Jason Pierre-Paul is a superstar in the making, and a healthy Justin Tuck is a force. Osi Umenyiora remains under contract for another season, although his future is a bit hazy because of his desire for a new deal. Defensive tackles Chris Canty and Linval Joseph are anchors inside, and linebackers Mathias Kiwanuka and Michael Boley are surrounded by a corps of young linebackers in Jacquian Williams, Greg Jones, Spencer Paysinger and Mark Herzlich.
And the Giants have a good nucleus in the secondary, highlighted by cornerback Corey Webster, safety Antrel Rolle and safety Kenny Phillips. Last year's first- and second-round picks, cornerback Prince Amukamara and defensive tackle Marvin Austin, wait for an opportunity as well.
Cornerback Terrell Thomas and linebacker Jonathan Goff, who were on injured reserve, are free agents but could be back, too.
So the potential for the Giants to be better than they were is there, not including what they do in free agency and the draft.
But the Giants do love making things difficult on themselves, and they respond with their best when the pressure is set on high.
"We can be so much better," Jacobs said. "But you know what, I still don't think we'll [ever] be that team that does it clean. We'll be the team that causes stress on ourselves and do it the wrong way. That is how we win man."
"I don't know what it is," Jacobs continued. "I don't like those situations. I am going to be honest with you. We are too good for that. We are a much better football team than doing it the dirty way."
But one of the Giants' greatest attributes this season was their ability to get physical and grind out wins. They were as resilient as they were confident.
And there was no shortage of confidence in the Giants' locker room this season, even when they were 7-7.
"If you have been through what we have been through and came from where we have come from, it wasn't overconfidence," Umenyiora said. "We just knew what we had done and what we had come through and we were playing with the house's money. We had nothing to lose. What were we going to lose by talking?"
Now the talk is about repeating.
"I believe we can," Kiwanuka said. "If we won it this year, there is no doubt that we can. We just got to get into the playoffs."