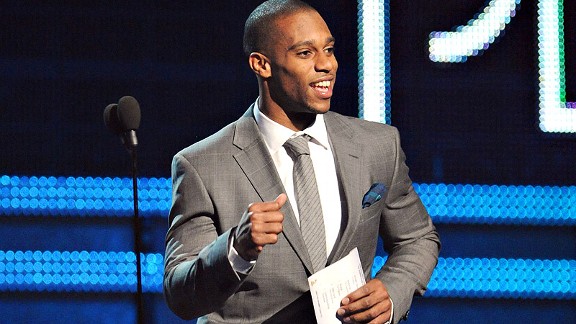 Jeff Kravitz/FilmMagic
Victor Cruz goes from the Super Bowl to the Staples Center to salsa at the Grammys.Giants wide receiver Victor Cruz salsa'd at the Grammys on Sunday night.
It had to be done, right?
Cruz appeared with fellow wideout Mario Manningham -- he of 38-yard Super Bowl XLVI catch fame -- to present the award for Best Rock Performance to The Foo Fighters.
Cruz tweeted that his favorite part of the night was "Meeting the homie Drake."
Who would've, back at the beginning of training camp, thought he'd end up doing that?
So what's harder: dancing in the end zone, or on stage?
"Definitely that Grammy stage, man," Cruz told Access Hollywood. "You don't have a helmet on, you're not running around, it's just people starring at you wondering what you're gonna do next. So it was definitely a great experience and I'd definitely do it again."
Tweeted Manningham: "Never experienced anything like @thegrammys b4 in my life. Look at the pic of me and the legendary Stevie Wonder"
"What an amazing night!!"
Cruz and Manningham sat behind Adele, who ended up winning six Grammys.
As a matter of comparison, ESPN Analyst Damien Woody tweeted, "[the late] Whitney Houston won 6 Grammys in her career ..."
• ESPN NFL Insider Adam Schefter tweeted out a link to SI.com's Peter King's Monday Morning QB column.
There is a lot of good stuff in there about quarterback Eli Manning, and the progressions he has had to make during his career.
• Freak of nature defensive end Jason Pierre-Paul will not be appearing in TNA Wrestling on Monday night due to exhaustion, according to a FOXSports.com report.