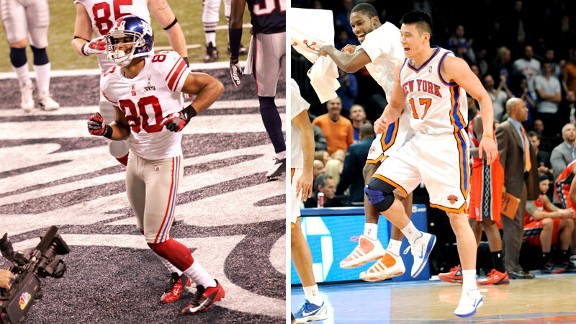 Getty Images
Former Giant and current ESPN analyst Antonio Pierce posed this question to his followers on Twitter, so I'll pose it in our Giants and Knicks blogs:
Who is the bigger surprise, Victor Cruz or Jeremy Lin?
Both players were undrafted out of college, overcoming adversity to reach the pros.
Cruz emerged to set the Giants' single-season record for receiving yards. Lin is the first player in NBA history to have 20 or more points and seven or more assists in each of his first five starts. Cruz is famous for his "Silk City Salsa" touchdown dance. Lin is famous for being the second Asian-American player in NBA history and sleeping on his brother's couch.
So who do you think is the bigger surprise? Let us know in the comments section.