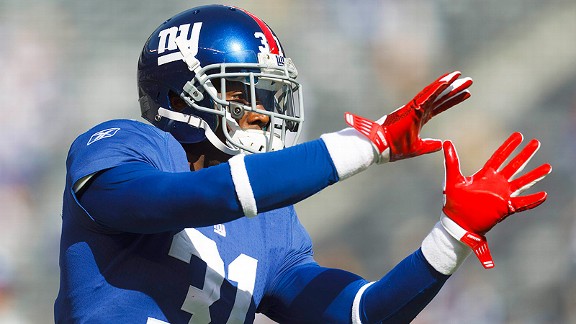 Jason O. Watson/US Presswire
Aaron Ross and his two Super Bowl rings are on their way to Jacksonville.Just over 48 hours after wide receiver Mario Manningham left for San Francisco, Aaron Ross became the latest free agent to leave the Giants.
Ross is signing a three-year deal worth up to $15.3 million with the Jaguars, according to a source. Like Manningham, Ross' departure was expected. The only question was where would the cornerback land.
After re-signing Terrell Thomas last week, Ross became expendable because the Giants weren't going to spend the kind of money he got for their third corner. The Giants want to re-sign some other veteran free agents like middle linebacker Jonathan Goff while being responsible with their spending to pay young stars like Victor Cruz down the road.
Ross, 29, started 15 games last season in place of an injured Thomas and had a career-high 60 tackles and four interceptions. Thomas is rebounding from a torn ACL injury suffered last preseason but he is expected to be ready for training camp.
Last year's first-round pick, Prince Amukamara, will now get his opportunity to play more as the third cornerback on the depth chart if he's healthy. Amukamara recently underwent an injection procedure to help his foot heal better. Amukamara broke his foot in the second practice of camp last year and missed the first nine games of the season. He had to play catch-up for the remainder of the season and struggled at times.
A source expects Amukamara to be ready for training camp. With an entire offseason of training and coaching, Amukamara should be improved this coming season.
Ross was the Giants' first-round pick in 2007 and he started 24 of his first 30 games with the Giants before playing in just four games in 2009 due to a hamstring injury.
While the Giants lost a corner who started in both Super Bowl XLII and XLVI, they have enough depth in the secondary after re-signing Thomas, Bruce Johnson, Michael Coe and Justin Tryon. Brian Witherspoon is also returning.
Here is the updated free agent list for the Giants with Ross' departure. Tell us what you think of Ross leaving below.