Chris Snee underwent elbow surgery last week but expects to be ready for Giants offseason training activities.
The team's best offensive lineman told reporters about the procedure at an appearance to promote the NFL's pop-up store at 41st Street and Sixth Avenue. Snee's surgery was a clean-out procedure, according to a source.
"I didn't let anyone know," Snee said of playing through the injury, according to the New York Daily News. "We're tough guys. We're supposed to play through things. I don't feel it's anyone's business what I'm dealing with. The only people that hear about it are the training staff and my wife."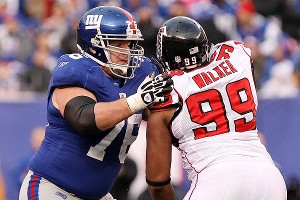 Alan Maglaque/US Presswire
Chris Snee is a three-time Pro Bowl selection and two-time Super Bowl champion.
Snee described the surgery as "something that had to be done."
"It already feels better than it did before surgery," Snee told reporters.
"I have full intention on being out there in OTAs," he added.
Snee also talked about the likelihood of having to play this season without right tackle Kareem McKenzie next to him. McKenzie is a free agent and not expected to return. David Diehl could move to right tackle this coming season. Diehl recently said that he is open to playing right tackle if the team needs him there.
"That's what you'd think would happen," Snee said. "Kareem and I have had a great, very productive seven years together. We're similar in many ways, in the way we've handled the game. We're quiet. We're film junkies. I'll miss the guy if he's not back.
"I'm hoping he'll get a call here shortly. I don't know what the plan is. It would be similar to last year when Shaun [O'Hara] and Richie [Seubert] left. The bond that Kareem and I have is special. We've worked a lot of hours together."
Snee will also miss Brandon Jacobs, who joined Mario Manningham and signed with the 49ers on Wednesday. Snee called Jacobs "one of the toughest guys" he's played with.
He also was asked about coach Tom Coughlin's pending contract extension and how long Coughlin -- Snee's father-in-law -- will coach.
"It's just a yearly battle with him," Snee said. "I've said this over and over again, but I feel bad for him because all he's done is win football games and make this team a bunch of class guys, but I don't think he gets appreciated. I still think that, even after winning [the Super Bowl], if we go through a rough patch this year or the year after someone will be calling for him again."
"But I'm certainly happy for him," he added. "He'll be coaching until they take him out of here. He'll be coaching here longer than I'll be playing here, I'll tell you that."