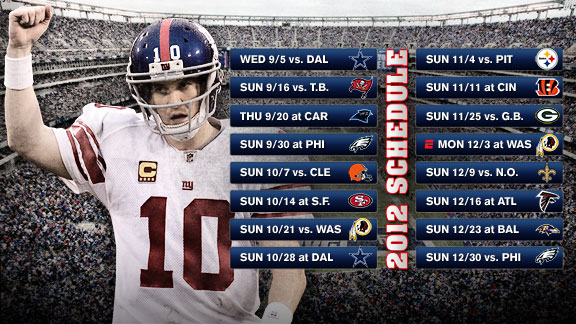 ESPN.com illustration
The New York Giants' title defense will not be easy. In fact, if the Super Bowl champs are going to repeat, they'll have to earn it by surviving another tough November and December.
The schedule is below, with some early observations. My schedule column, game-by-game predictions and Top Five Games piece are coming shortly.
(All times Eastern.)
SEPTEMBER
Sept. 5 DALLAS (Wednesday night), 8:30 p.m., NBC
Sept. 16 TAMPA BAY, 1 p.m., FOX
Sept. 20 at Carolina (Thursday night), 8:20 p.m., NFL Network
Sept. 30 at Philadelphia (Sunday night), 8:20 p.m., NBC
OCTOBER
Oct. 7 CLEVELAND, 1 p.m., CBS
Oct. 14 at San Francisco, 4:15 p.m., FOX
Oct. 21 WASHINGTON, 1 p.m., FOX
Oct. 28 at Dallas, 4:15 p.m., FOX
NOVEMBER
Nov. 4 PITTSBURGH, 4:15 p.m., CBS
Nov. 11 at Cincinnati, 1 p.m., FOX
Nov. 18 BYE
Nov. 25 GREEN BAY (Sunday night), 8:20 p.m., NBC
DECEMBER
Dec. 3 at Washington (Monday night), 8:30 p.m., ESPN
Dec. 9 NEW ORLEANS, 4:15 p.m., FOX
Dec. 16 at Atlanta, 1 p.m., FOX
Dec. 23 at Baltimore, 1 p.m., FOX
Dec. 30 PHILADELPHIA, 1 p.m., FOX
For openers: The road to repeating begins on Sept. 5 at MetLife Stadium against Dallas. With President Barack Obama delivering his Democratic National Convention speech on Thursday, Sept. 6, the Giants open the season on a Wednesday night instead.
The Cowboys will be looking for some payback after losing twice to the Giants in the final month to lose the NFC East and a playoff spot last year. The Giants won 37-34 in Dallas afterJason Pierre-Paul blocked a potential overtime-forcing field goal on Dec. 11, and they swept the Cowboys with a 31-14 victory in the regular-season finale on Jan. 1 to win the division.
And of course, let's not forget that the two teams don't like each other, and new Cowboys corner Brandon Carr has alredy vowed to keep Victor Cruz from salsa dancing. One thing missing will be Brandon Jacobs giving his annual "I hate the Cowboys" quote. At least Justin Tuck is still around to say that.
Trend-wise, the Giants have won five of their last six meetings against the Cowboys.
Strength of schedule: The defending champs own the league's hardest schedule based on their opponents' 2011 records. The Giants are the first defending Super Bowl champs to enter a season with the most difficult schedule according to Elias Sports Bureau.
Giants' 2012 Strength of Schedule Based on Opponents' 2011:
Opponents' Win Pct: .547
Opponents' W-L: 140-116
The Giants will truly have to be road warriors this year. Their road strength of schedule based on opponents' results from 2011 is a combined .555 -– second only to the Denver Broncos' road strength of schedule this year.
According to ESPN Stats, the teams that entered the season with the hardest regular-season schedule have finished 6-10 or 7-9 in the past three seasons. Carolina (2011), Tennessee (2010) and Houston (2010) all finished 6-10. Entering 2009, Miami had the toughest schedule based on its opponents' results in the previous year and finished 7-9. However, in 2008, Pittsburgh went into the season with the most difficult schedule and finished 12-4 before winning Super Bowl XLIII.
Under the lights: The Giants are scheduled to play five prime-time games this season. Besides opening on Wednesday night against the Cowboys, they'll face Cam Newton's Panthers on a Thursday night, Sept. 20.
The following week, they travel to face Michael Vick and the Eagles in a Sunday night game. They'll be back on NBC again on Nov. 25 against the Packers, at home for a Sunday night clash. And the following week, the Giants will be on "Monday Night Football" against NFC East rival Washington in Maryland.
Toughest stretch: What would be a Giants schedule without a brutal stretch to finish the season? Once again, the Giants' schedule looks tough at the end.
The Giants open November against Pittsburgh at home and then have to face the Bengals in Cincinnati, a place they have never won (0-5). After the bye week, the Giants enter a daunting six-game stretch that includes Green Bay, New Orleans, Atlanta, Baltimore and Philadelphia. Tom Coughlin has often said that the Giants have to beat the best anyway to be the best. Like last season, the Giants will have to save their best for last again if they want to make the playoffs.
Can't-miss game: Giants against Green Bay at home on Nov. 25. Eli Manning versus Aaron Rodgers. The last two Super Bowl champs square off, and last year's regular-season meeting between the two teams did not disappoint, with the Packers edging out the Giants, 38-35, at MetLife.
The Giants eliminated the Packers in Green Bay in the playoffs, 37-20. So the Pack will be looking for payback.